Walmart has apologized to an Edmonton-area mother after staff refused to print a photo of her breastfeeding her child, deeming it inappropriate
Kayla Andre's husband just wanted to print and frame a photo of his wife nursing their son as a Mother's Day gift, but staff working in the Spruce Grove Walmart photo department deemed it a violation of the company's policy against printing photos with nudity, reports CTV Edmonton.
"When he went to go pick it up, they brought the photo out and said unfortunately, although this means a lot to you, we can't print it for you and we cannot sell it to you," Andre told CTV.
"He said, well why not, and they said because it's nudity and Walmart has very strict no nudity policy."
The photo Walmart refused to print. (Story continues below)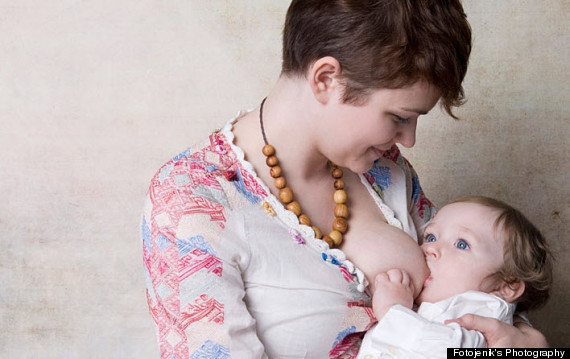 Andre's husband took to Facebook about the situation and Walmart responded soon after, said Canadian corporate affairs director Alex Roberton, who called Andre to apologize.
"We made a mistake. That photo should have been printed," Roberton told CTV.
The problem, Roberton told CBC Edmonton, is that many of the employees in the photo centre are young and new to the job, and perhaps the policy wasn't explained well enough.
"In this particular case, we hadn't done a very good job of making sure that procedure was crystal clear," he said, adding that the company has added an addendum to their photo policy to clarify what is considered appropriate.
Andre was surprised, but grateful, to receive the apology. A planned breastfeeding sit-in at the store was still a go for Thursday.
According to the Facebook invitation, 29 people planned to attend the protest.
"I'm actually really, really pleased and shocked and surprised that someone from head office … contacted me and remedied the situation," Andre told CBC.
"Lots of people were saying, 'You can't do anything, it's Wal-Mart. Nothing's going to change.'"
Story continues after the slideshow
Memorable Breastfeeding Moments In Hollywood
This is not the first time Walmart has faced controversy over breastfeeding in Alberta.
Last December an online firestorm erupted after a nursing mother was asked to leave a Calgary Walmart while breastfeeding her three-week old son.
"New moms need all the support they can get, not just with breastfeeding but with adjusting to life with a new baby," Dr. Cynthia Landry, who runs a breastfeeding clinic, told Global Calgary at the time.
Walmart also apologized for that incident.
Kirsten Goa, president of the Breastfeeding Action Committee of Edmonton, told CTV she believes mothers still face a lot of negativity when they breastfeed in public, and has seen little change in attitude over the years.
"Censorship of breastfeeding both in terms of personal harassment, women covering up, women hiding in their houses, and their Facebook photos being deleted, all of that is happening all the time. That really intimidates a lot of people when they're nursing their babies," she told CTV.
Kimberly Williams, a women's studies professor at Mount Royal University in Calgary, told the Calgary Journal that breasts are seen as taboo because of their association with sex.
"Breasts are erogenous zones. If a woman is going to enjoy sex, the erogenous zones are going to be the breast and nipples so there's an association in popular culture. If we get into pornography, titillation and breasts are sort of everywhere.
"Since most pornography, not all, is meant for a male audience, that inherently sexualizes breasts."