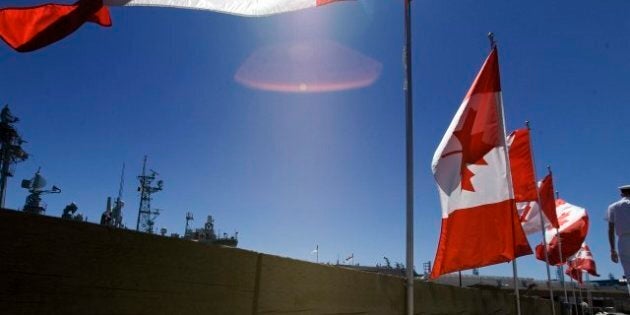 All charges against a Nova Scotia woman in the Royal Canadian Navy who is fighting cancer, and who was charged with being absent without leave, have been dropped, the woman and her lawyer say.
"I feel fantastic, I feel vindicated, it's been a long 11 months. Between having to face a court martial and fighting cancer, some days I didn't know which one was more difficult. But now I can just focus on getting better," said Able Seaman Carol Anne Deyoung.
Both Deyoung and her lawyer, Maj. Sarah Collins, said the charges were dropped Friday afternoon.
The Department of National Defence confirmed Friday evening that all charges against Deyoung have been dropped.
"Military prosecutors have an ongoing obligation to assess the public interest in proceeding with prosecutions in the military justice system. In [Deyoung's case], the prosecution considered a number of factors including recent and detailed medical information disclosed by defence counsel, and the views of the chain of command, in determining that it is no longer in the public interest to proceed with this matter by way of court martial. As a result, all three charges against the accused have been withdrawn," the office of the director of military prosecutions wrote in an email.
The news comes less than 24 hours after CBC News broke the story.
As late as Thursday afternoon, the military planned on pursuing a court martial against Deyoung. Her trial was set to start on Tuesday, the same day as Deyoung is scheduled to start her second round of chemotherapy.
Deyoung was charged with two counts of disobeying a lawful command and one count of absence without leave over an incident that began last June, when she told CBC News that she felt a lump in her breast and called in sick.
She was then ordered to go to a military hospital at Canadian Forces Base Stadacona in Halifax. She said she followed orders, but it took her two hours to get there.
A month later, she found out she was facing charges.
Rather than face a summary trial, Deyoung opted for a court martial.
"In my mind, I am completely not guilty. That's why I chose a court martial. I didn't want to be tried in a summary trial because it feels that you're guilty walking in."
Deyoung said she's going to take her doctor's advice and focus on her health.
"I'm so happy that this nonsense is put behind me," she said.
"In my heart of hearts, my heart of hearts, I knew that I was not guilty."
Deyoung is even participating in this weekend's Bluenose Marathon 10-kilometre race across the MacDonald Bridge between Halifax and Dartmouth.
"I'm not going to be able to run the whole 10 [kilometres] with cancer but I'm going to give it my best and hopefully with the encouragement of all my friends and family I'm hopefully going to beat cancer too," she said.
Defence Minister Peter MacKay's office released a statement following news that charges against Deyoung had been dropped.
"Our hearts go out to Ms. Deyoung as she fights a courageous battle with cancer. The minister has been clear that the government and the Canadian Armed Forces have compassion for all ill and injured military members," read the statement issued Friday by Jay Paxton, MacKay's director of communications.
Deyoung will remain a member of the military until June 23. In a decision unrelated to the charges, following a back injury she suffered at sea, Deyoung was set to leave the military. Her plan was to head overseas and teach English, but first she must finish her cancer treatment.