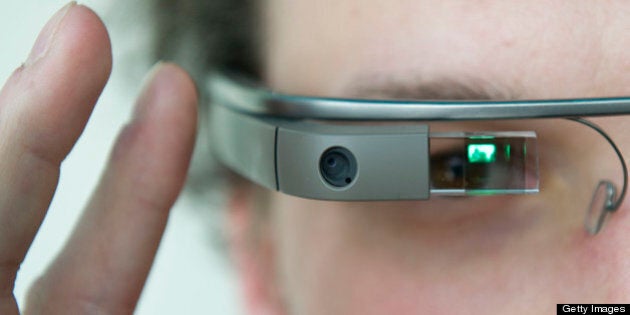 The porn industry and Google Glass could soon be a marriage made in.. well, a private place with maybe the lights down low.
Sex industry news outlet XBIZ reports filmmakers have big plans for the reality-enhancing device once it hits the mainstream -- looking to shoot
"To really know their full potential, we'll need to get a pair to play around with, but we're already dreaming up ways to use the glasses to get shots (sex-related and otherwise) that just aren't feasible using a traditional camera setup," a spokesperson for production company Pink Visual told XBIZ.
The idea, it seems, is to strip away the stilted trappings of the usual porn shoot and open it up to a more intimate, first-person experience. The emerging technology seems well-suited to full immersion erotica. Basically, Google Glass packs a camera, display, microphone and touchpad into a pair of glasses, adding a digital, web-enabled overlay to your field of vision.
And the porn industry will be right there waiting for it.
"The way that this will change porn is pretty ridiculous," adult film star and radio host Alana Evans told Tech News Daily. "It's going to cause a huge drive in POV- (point of view) style production."
Another adult film industry executive, Peter Acworth, suggests Google Glass will also inspire a whole new sub-genre of gonzo porn.
"You could film picking up someone at a bar and taking them home, for example," he told told Silicon Valley Business Journal. "It takes the whole genre of POV and reality productions one stage further. You'll hopefully get something very authentic.
"We'll get so used to people wearing them that you'll never know if you're being filmed or not."