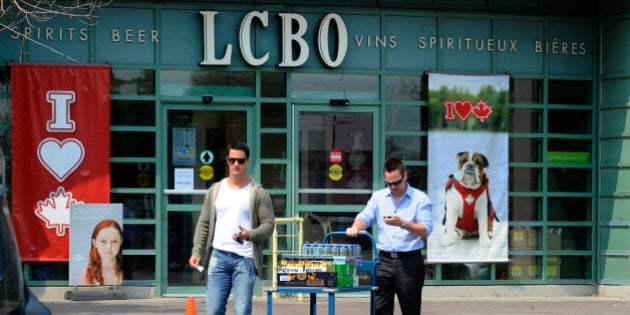 With that haunting specter no longer looming over our heads, we are free to go forth and enjoy our long weekend stashes of booze free of consequence (or at least free of this one particular consequence) knowing full well that there will be more Arbor Mist strawberry zinfandel waiting for us at our friendly neighbourhood LCBO and that there will be a happy and satisfactorily compensated LCBO worker there to sell it to us.
But things got scary for a while there. Even the LCBO itself eschewed its usual party line of temperance and responsible drinking in favour of basically telling us to horde as much booze as humanly possible. We had visions of an Ontario left devastated by its inability to buy booze at a place that wasn't a Beer Store, a winery or a Wine Rack. And we were getting prepared. Not only did we stock up on liquor, just like the LCBO told us to, we stocked up on drinking songs that we believed would keep our spirits up when our spirits finally ran dry.
While you're enjoying your copious amounts of free-flowing alcohol this weekend, we hope that you take a moment to look over our list and remember what could have been.
Almost LCBO Strike 2013: Never Forget.