Alamy
Downloading "The Smurfs" from an RCMP office?
Fueled by what they see as the hypocrisy of an anti-piracy group found to be stealing content themselves, the Pirate Party of Canada claims it has proof computers at Industry Canada and the RCMP are engaged in unauthorized downloading.
The party, which campaigns for internet freedoms and opposes attempts to stop unauthorized downloading, said they checked the range of IP addresses associated with Industry Canada and the RCMP offices in Ottawa through software called Scaneye, which shows users which BitTorrent downloads are attached to their IP address, to show that computers within RCMP and Industry Canada offices were downloading movies illegally.
According to their findings, computers at the RCMP and Industry Canada in Ottawa downloaded movies like The Fast and The Furious 6 and Finding Nemo, as well as episodes of Game of Thrones and Flashpoint.
The party also uncovered illegal downloads from the House of Commons last year.
A representative from the RCMP National Headquarters could not be reached for comment.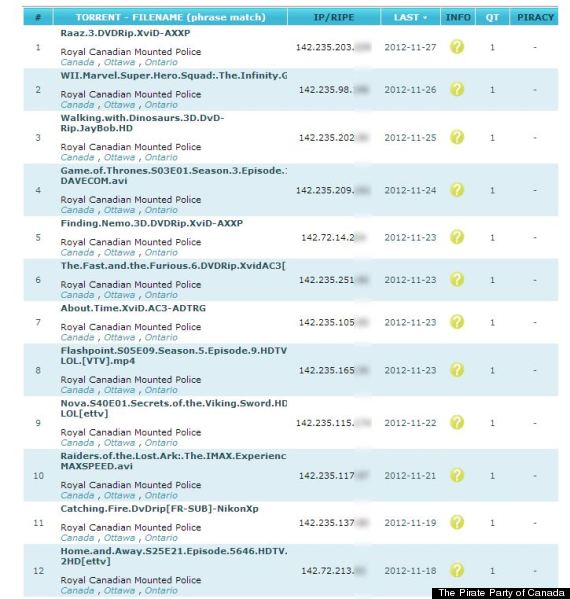 From the website of the Pirate Party of Canada
The party has been speaking out against Canipre, an anti-piracy group, after the organization collected data last year on more than one million Canadians it says were downloading files illegally.
Canipre is working on behalf of Voltage Pictures, a film company behind movies like 'The Hurt Locker'. The film company went before federal court to request the customer information of IP addresses of users who were allegedly using internet provider TekSavvy to download files without permission.
Voltage Pictures' suit hints at the potential for a new, U.S.-style copyright regime in Canada, even though recent reforms to copyright law were ostensibly meant to prevent mass file-sharing lawsuits. According to the Internet civil-liberties group Electronic Frontier Foundation, between 200,000 and 250,000 people in the U.S. have been targeted by these types of suits in the past two years.
Canadians don't have to pay massive damages for copyright infringement suits, after a modification to an existing copyright bill stuck a $5,000 limit on damages for "non-commercial copyright infringement" — which applies to people in their homes watching movies.
Earlier this week, Vice Magazine accused Canipre of using copyrighted photos without permission.
On its site, the Pirate Party decried what it called the "double standard of targeting individuals more harshly than organizations" on matters of copyright infringement.
That, combined with the fact that many content creators don't see piracy as detrimental to their business -- see, for example, HBO's refusal to condemn unauthorized downloading of its shows -- shows "it's clear that something is wrong with the way intellectual property rights are currently enforced," the party said.
Also on HuffPost
15 Countries With The Greatest Access To Broadband