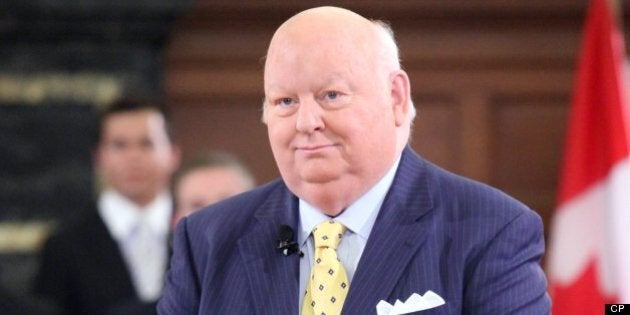 Letters between Senator Mike Duffy and Senator David Tkachuk, head of the committee looking into his expenses, reveal that Duffy was at times an active participant in the investigation that the committee conducted on him.
The letters were obtained by CBC News, and include these details:
Feb. 22, 2013
Duffy wrote to Tkachuk noting questions were being raised about his eligibility for the secondary housing allowance he had been claiming for his home in Ottawa. The letter was written two weeks after the Senate announced it was hiring an outside auditor, Deloitte, to examine the residency expenses of Duffy as well as of Senators Patrick Brazeau and Mac Harb.
Duffy wrote he believed he had filled out expense forms "in good faith," but, he continued, "After reviewing all aspects of this matter, it turns out I may have been mistaken." He stated his intent to repay "the housing allowance I have collected to date." He added that the forms and rules are ambiguous. Finally, he asked the Senate to calculate the amount he owed.
On the same day, Duffy told CBC News in Charlottetown he and his wife "are going to voluntarily pay back my living expenses related to the house we have in Ottawa."
Feb. 27, 2013
Tkachuk replied to Duffy's Feb. 22 letter, giving a detailed breakdown of Duffy's housing allowance. The total, Tkachuk said, was $90,172.24, including interest.
Over a month later, on March 26, Deloitte received a letter from Duffy's lawyer stating Duffy had repaid more than $90,000 in expenses, and would no longer be participating in the audit. More than three weeks later, on April 19, Duffy issued a public statement saying he had repaid over $90,000 expenses.
However, according to the Deloitte forensic audit released on May 9, Duffy never participated in the audit.
April 18, 2013
Duffy wrote a letter to Tkachuk, referring to an "informal conversation" he had had with him two days before. Whatever that conversation was, it seems to have prompted Duffy to go though his files. He said he had discovered through a "clerical error" that per diems were inadvertently charged for several days when he was not in Ottawa. The Deloitte audit revealed Duffy was in Florida for those days.
In the letter, Duffy explained, "My regular staff person was away on maternity leave and a temporary worker processed that claim." He promised to reimburse the Senate, and offered to meet with the Senate committee or the auditors from Deloitte to respond to questions about his residency in P.E.I. The next day, he announced he had repaid his housing and living expenses, without mentioning the Florida trip.
April 25, 2013
Tkachuk replied to Duffy, acknowledging his offer to meet with the steering committee that was part of the larger Senate committee on internal economy. The steering committee consisted of Tkachuk, Conservative Senator Carolyn Stewart Olsen and Liberal Senator George Furey.
In a scolding tone, Tkachuk observed that Duffy had been asked to provide additional documents and meet with Deloitte. "Despite repeated attempts, it is our understanding that no additional documents were provided to Deloitte, not did you or your lawyer meet with them."
However, Tkachuk concluded the letter by saying Duffy's offer to meet with Deloitte would at that point delay the report. "Your concerns should have been addressed to Deloitte before the preparation of the report," he wrote and then signed off.
A week and a half later, on May 9, the Deloitte audit and the Senate reports on Duffy's expenses, as well as Harb's and Brazeau's, were released.