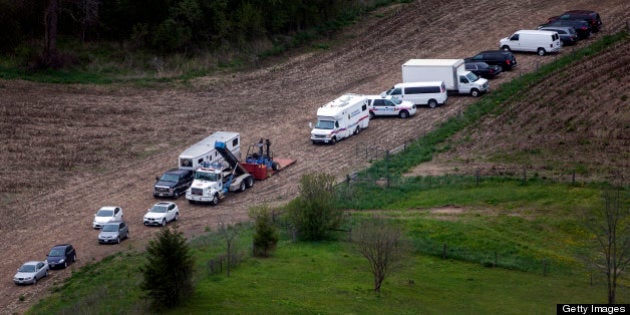 Toronto homicide detectives are at Dellen Millard's North Dumfries farm near Cambridge today to execute a search warrant in connection with the disappearance of Laura Babcock and the suicide of the accused killer's father, Wayne Millard, police have confirmed to CBC News.
Homicide Unit Staff Insp. Greg McLane confirmed that police are following up on recent information that led them to search the farm for a second time since the slaying of Hamilton's Tim Bosma.
McLane told CBC's Trevor Dunn he's not sure what they'll find there, "if anything."
McLane said police are currently conducting tests at the farm, but would not confirm if they're digging.
However, CBC reporter Mike McCulloch saw fresh piles of dirt at the farm, and police officers raking and cutting back tall grass with a weed trimmer on the property.
He also saw police using ground penetrating radar, which is commonly used to find underground objects.
Millard, 27, was charged with first-degree murder in connection with the death of Tim Bosma on May 15. A second man, 25-year-old Mark Smich of Oakville, Ont., was arrested on May 22 and has since been charged with first-degree murder. A third suspect is still being sought by Hamilton police.
Laura Babcock, 23, has been missing since June 2012. According to friends of the Toronto woman, she was once in a relationship with Millard.
CBC News contacted an ex-boyfriend of Babcock's, Shawn Lerner, who said he examined her phone bill for clues after she went missing and noticed several calls to Millard.
Lerner said Babcock had known Millard "for several years."
The Ontario coroner's office still has an open investigation into the death of Millard's father, Wayne, after his apparent suicide in November of last year. Police also opened an investigation at that time, but determined the death was not criminal. After the recent charges against Millard, they said they would take another look at the case.
Cheryl Mahyr, a spokeswoman for the coroner, said earlier this month there's nothing particular about the Millard case that has caused a lengthy investigation.
"Every death investigation we conduct is unique," Mahyr said.
Bosma's remains found on farm
Bosma, 32, disappeared the evening of May 6 after he took two strangers on a test-drive of a truck he had listed for sale online on Kijiji and AutoTrader.
Police have said remains previously found on the Millard farm are believed to be Bosma's.
A vehicle was spotted following Bosma's truck during the test-drive. Hamilton police confirmed the vehicle was a GMC Yukon belonging to Millard. It has been seized by police and is being analyzed for evidence.
Police have said Bosma's remains were "burned beyond recognition."
They also reported that a portable incinerator was found on the Millard property, which they say was purchased by the accused murderer in July. The machine, known as "The Eliminator," is used to cremate livestock, but police said Millard didn't own any animals.
Millard purchased the 45-hectare farm on Roseville Road in 2011 for $835,000.