He's still got it.
Former Prime Minister Jean Chrétien, who turned 79 in January, is apparently ready to trade in his water skis for a wakeboard.
A priceless video was released to YouTube on Monday, most likely from his former spokesman Steven Hogue, showing Chrétien learning to wakeboard in Buxton, North Carolina.
Apparently Canada's 20th prime minister, who retired in 2003 after 10 years in the big job, also learned the techniques of KiteSufing but was unable to show off his moves because of a lack of wind.
Chrétien looks pretty confident on the water and even throws a hand in the air at one point.
Again, the man is 79 years old.
Of course, the video may remind some of a famous photo from 20 years ago. When Chrétien was in opposition and heading toward an election against fresh-faced Prime Minister Kim Campbell in 1993, a shot of him water skiing on one leg on the Canada Day long weekend made numerous front pages across Canada.
According to Liberal strategist Warren Kinsella, the image helped Chrétien prove to voters he wasn't "yesterday's man."
Of course, some politicians have been less successful on the water.
Former Canadian Alliance leader Stockwell Day was mocked in 2000 when he arrived at a news conference in B.C. on a Jet Ski, wearing a wetsuit.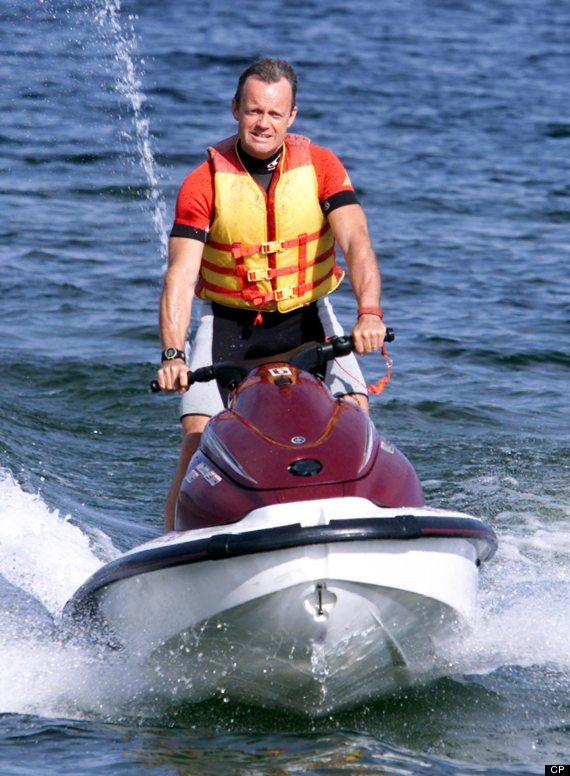 Day would go on to lose the 2000 federal election to Chrétien but maybe both retired politicians can put their differences aside and enjoy some water sports this summer.
Also on HuffPost