It seems the Bank of Canada can't take a joke — at least when it comes to satires built on the banknotes it issues.
Canada's central bank is reportedly unhappy with a satirical drawing from Vancouver cartoonist Dan Murphy, depicting Senator Mike Duffy's face on a "$90,000 bill."
It's actually a $50 bill that has been altered in fairly obvious ways to feature Duffy's face, along with a less noticeable image of a grinning Nigel Wright, the former chief of staff to Prime Minister Stephen Harper. It was Wright's writing of a $90,000 cheque to Duffy to cover the senator's expenses that inspired the cartoon.
According to a column in the Victoria Times-Colonist, the cartoon — which doesn't appear to have run in any newspaper — appeared on the website of Murphy's licencing agent, Artizans, but quickly drew a takedown request from the Bank of Canada, which owns the copyright to Canada's currency.
Yet it seems the cartoon is still available for sale at Artizans' website.
The bank's policy on reproduction of bills warns of criminal penalties for counterfeiting, and notes you need permission to reproduce a bill, which apparently Murphy didn't obtain.
The bank will only approve a reproduction if "the proposed use does not tarnish the dignity and importance of currency to Canadians."
"I didn't know I held bank notes in such high regard. I thought I just spent them," quipped the Times-Colonist's Jack Knox.
While the image did not appear at the Times-Colonist, it did appear on Boing Boing, the blog run by Canadian sci-fi writer Cory Doctorow.
At the risk of raising the Bank of Canada's ire, here is the image in question: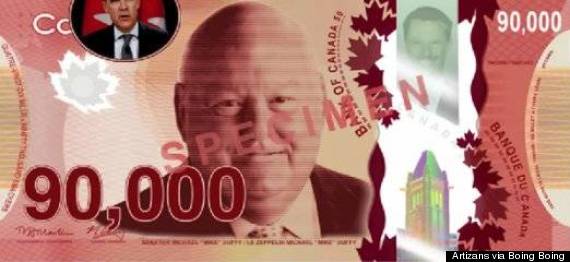 Copyright experts say the bank is on thin ground asking for a removal in this case.
"If the Bank relies on copyright law to censor Murphy's cartoon, then its claim has very little merit," University of Toronto associate law professor Ariel Katz wrote on his blog.
"Even if a banknote is a 'work' for the purpose of copyright … the Copyright Act permits fair dealing with a work for several purposes, which include 'parody or satire'."
The Bank of Canada did not immediately respond to a request for comment from HuffPost.
Also on HuffPost
Evolution Of The Canadian One-Dollar Piece