After trying Jim Flaherty and Stephen Harper on for size, clothing retailer Harry Rosen is now turning its eye to a new, slightly younger model for its politically-savvy ads.
Justin Trudeau is the latest in a string of federal politicians to be featured in an ad for the men's clothing store.
The ad shows Trudeau descending the stairs in the foyer of the House of Commons with dozens of reporters and cameras gathered around him.
It features the caption, "I guess you've heard. I've been invited to Harry's Private Sale."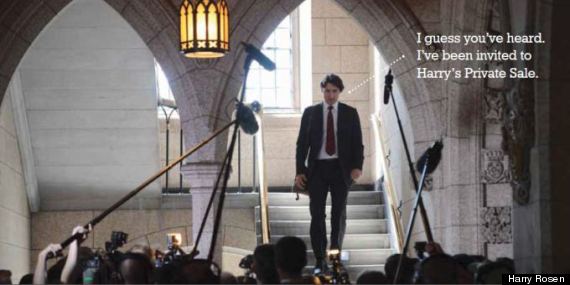 Trudeau's office says Harry Rosen's did not ask permission to use Trudeau's image in the ad, but refused further comment on the flyer that is being sent to customers across the country.
The chairman of Harry Rosen Inc., Larry Rosen, says the company tries to choose people who are "prominent and in the news" for its ads.
Rosen says this is not a partisan act, nor an endorsement. "We're tailors. We sell suits to the Liberals, Conservatives and NDP, you name it."
But, Rosen says, if Trudeau is the current face of the company's flyers, it's because he's "recognizable." He says it's all about celebrating Canadian politics.
PMO took issue with Harper campaign
Some politicans seem to appreciate the fashion nod more than others.
The Finance Minister seemed to take the compliment in stride when he was chosen as an unauthorized model in 2007, but the Prime Minister's Office was not as pleased when its boss landed in an ad.
Harry Rosen used a photo of the prime minister playing a Beatles tune at the National Arts Centre a couple years ago. Given that the photo was not authorized, Harper's office suggested Rosen was going to run out of friends if the store continued to use photos of people without asking their permission.
In response, the clothing store offered to make donations to charities in Flaherty and Harper's ridings. Rosen says the store will happily do the same for Trudeau.
Also on HuffPost
What Is Justin Trudeau Doing?