AP
A massive ice jam is threatening to swallow the remote Alaskan town of Galena, submerging most of the town and forcing virtually everyone to leave immediately.
"Pretty much the entire village is under water," Dave Streubel of the National Weather Service told the Los Angeles Times.
The jam was reportedly caused by a large ice sheet getting stuck in a sharp bend in the Yukon River, about 30 km downstream from Galena. As a result, waters rose five metres in a single night.
The ice jam itself spans nearly 50 kilometres.
Christopher Cox of the National Weather Service told the Associated Press 90 per cent of the community's roads were flooded, with many buildings swamped with a full storey of water.
Visiting the embattled town of some 400 people, Alaskan governor Sean Parnell has called in the National Guard to assist in the evacuation.
In a press release, Parnell warned the situation was poised to become even more dire.
"We expect the flooding to become worse before the waters start to recede. Ensuring the safety of those impacted by the flooding remains my top priority."
NASA released an image taken from its Earth Observatory showing how the ice jam developed.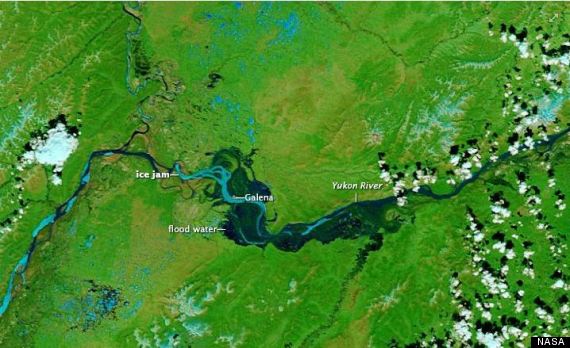 "It is like having a glacier advance at you at six miles per hour," John Madden, director of the Alaska Division of the Homeland Security and Emergency Services told ABC News. "That's a lot of momentum and when it hits a structure, the ice will always win."
Also on HuffPost