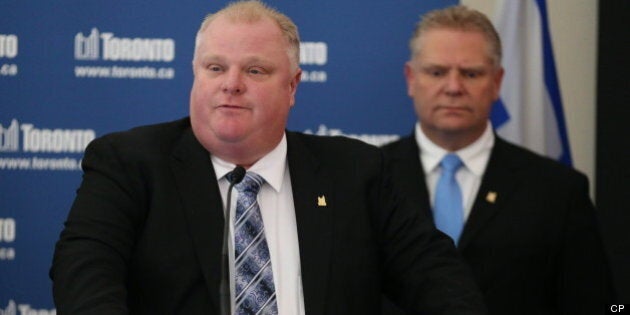 The Ford brothers — Toronto mayor Rob Ford and his city councillor brother Doug — took aim yet again at the Toronto Star on Sunday, demanding an apology for a story that claimed records belonging to former staffers in the mayor's office were slated to be destroyed.
"I would like them to retract this story and apologize to the city, and to the mayor's office, and his staff," Doug Ford said on The City, a weekly two-hour radio showhosted alongside his brother, Mayor Rob Ford.
"You'll have to pick me up off the floor if that happens," Mayor Ford said about the possibility of an apology. "I swear I will have a stroke."
Earlier this week, the Star reported that city officials had been asked to delete email and phone records of former staffers in the mayor's office.
The story, which was based on unnamed sources, prompted a letter from the Ontario privy commissioner to the mayor, asking to "immediately confirm" if the report was true.
"Any inappropriate destruction of records has the potential to seriously erode the public's trust and confidence in the City of Toronto," Ann Cavoukian said.
On Sunday, Doug Ford called the story "gutter journalism" and said that city emails can't be destroyed because they're in a server for seven years.
Ford also quoted from a press release, which he says was sent out soon after the story was published, that said the city clerk never received a request from the mayor's office asking for records to be deleted.
4 new staff
The mayor also announced on Sunday that he'd hired an additional staffer for his office, bringing the total to four, after a recent string of resignations and the firing of his chief of staff.
In a news conference on Friday afternoon, Ford described the new hires as "movers and shakers, people that want to work here, want to work hard."
When asked about what roles they would fill, Ford said "specific job titles, everybody here for one person – that's the tax payer."
Ford said he plans to hire an additional three to four people on Monday.
Six staffers have left the mayor's office since allegations surfaced over a video showing Ford smoking what appears to be crack cocaine.