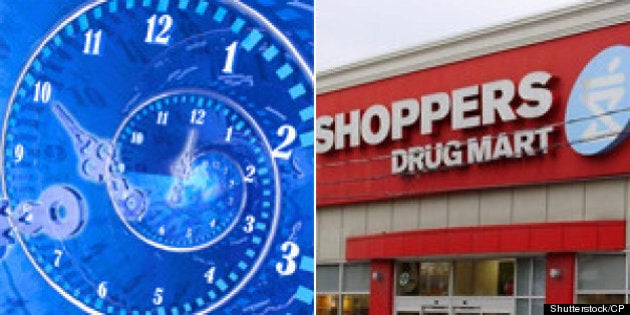 Shoppers gave an equally absurd response, wondering if the recipient had also gotten a hold of some futuristic promotions that certainly sound more exciting than their usual flyer fare:
1) Now at Shoppers Drug Mart: Everexis. Cure any disease instantly with Everexis! Great for headaches, colds, cancer and more! With no known side effects, nothing can possibly go wrong!

2) 20X The Points on Meat Products. Got the Everexis munchies? Fill your strange and unspeakable hunger and get 20X The Points!

3) 20% Off Everexis Antidote. Everexis left you slow, lumbering, and quick to anger? Take the Everexis antidote. It hasn't been fully tested, but it certainly can't make things any worse!

4) Hide in a Shoppers Drug Mart Refugee Shelter. With over 1,200 locations still standing across Canada, Shoppers Drug Mart is the ideal place to hold up and hide from the hoard. Ration Nativa Cheese Puffs and Life Brand Vitamins while you wait for rescue! Blood samples will be required for admittance.

5) Wheat, Glorious Wheat. Exclusively at Shoppers Drug Mart! Rebuild society with wheat, a traditional non-synthetic foodstuff from the before-times. Act fast, as quantities are extremely limited.
So is this the best customer service response ever? It looks like Shoppers hasn't publicly acknowledged the message (although we suspect they're trying to keep their cutting-edge promotions under wraps).