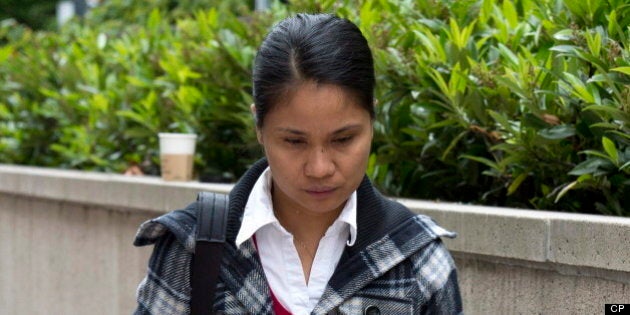 VANCOUVER - A Filipina nanny's voice tensed up with emotion Wednesday as she described the day she called police after one of her employers pushed her and doused her with a jug of water.
Leticia Sarmiento, who is testifying at a human trafficking trial, said the physical altercation in June 2010 involved Oi Ling Nicole Huen.
Sarmiento said she called police and finally escaped from the home where she had been working as a live-in nanny since 2008.
Huen and Franco Yiu Kwan Orr are facing human trafficking charges after allegations that they forced Sarmiento into domestic servitude while she looked after their three children.
Under questioning from Crown lawyer Charles Hough, Sarmiento said the altercation happened after Huen told her to give one of the children some milk, water and bread.
Sarmiento said the child had been having stomach problems so she gave her soy milk instead. The child did not drink it, and shortly after, Huen returned to the kitchen and threw the glass of soy milk, she said.
"I was wiping the soy milk on the counter because it splattered," she said through a translator. "(Huen) took the towel and threw it in my face."
Tugging at her own shirt collar to demonstrate, Sarmiento said, "She pulled me two times. I told her, 'Sorry, I will just warm up the homo milk.' But she told me `Get out, get out.'"
Sarmiento said Huen pushed her and that she called police out of fear.
"When I dialled 911, because I was crying at the time, the only thing I could say was, 'Please help me,'" she said.
Sarmiento said the operator told her to drink some water. She said she went to get some, and the next thing she knew, water was streaming down her back.
With the help of Huen's mother, who was at the house at the time, Sarmiento managed to talk on the phone. Three officers arrived, and after Sarmiento told them she wanted to leave, one went inside with her while she packed her belongings into a garbage bag.
Sarmiento said that as she packed, Huen rummaged through her things and checked her wallet to make sure she was not taking any photos of the family with her.
When asked why a photo of the family was important to her, Sarmiento teared up: "Because I have loved (the children)," she said. "That's why I'm keeping it as a remembrance of them."
It was only after police took Sarmiento to a women's shelter that she discovered she'd been living in Canada illegally and that Huen and Orr brought her into the country on a six-month visitor's visa, which had long expired.
Sarmiento, who now works as a cleaner, arrived in Canada in early 2008 with Huen and Orr and their children. Prior to that, she had worked for them in Hong Kong as a live-in caregiver.
Sarmiento said the couple told her that her working conditions would be the same as in Hong Kong, where she had two days off a week and regular hours, and that she would become a permanent resident in Canada after two years.
Sarmiento said that unlike in Canada, she was also allowed to socialize with other people, had her own cell phone to make frequent calls to the Philippines and took the children under her care out of the home on her own.
But all that changed when she arrived in Canada, where she was forced to work 16-hour days, seven days a week and also clean the house.
"When they see that the (other) nannies are talking to me, Mr. Orr would approach me and he would tell me there's no need for you to talk to the nannies," she said, describing her past experiences visiting a local community centre.
Sarmiento also recalled another instance where she was waiting at a mall for the family to finish watching a movie. She said she went to the food court and was telling a man about her circumstances when she saw the family walking towards her.
"Because there were many people, I was afraid they might see me so I went down (on) the chair," she said, demonstrating how she crouched down that day. "I was afraid they would see me talking to somebody."
During the preliminary inquiry, Sarmiento said she could never leave the Orr's house on her own because the doors were always locked from the inside and required a key to be opened. On Wednesday, she said there were also keypads, where someone had to punch in a code in order to get out.
But defence lawyer Nicholas Preovolos showed court pictures of the front and back doors, noting the keypads actually operated a home alarm system, and had nothing to do with controlling the door locks. The alarm system was also never activated, he said.
"I'm also going to suggest to you that in any time, you were free to walk to that front door and use your hand to unlock the door to go outside," he said to Sarmiento.
Preovolos also challenged Sarmiento's reliability, pointing to inconsistencies between her testimony during the preliminary inquiry and her testimony on Wednesday.
While she said previously that she was never left alone in the house, on Wednesday she said she remembers being left alone once.
Preovolos also suggested that contrary to Sarmiento's claim that she never had help with taking care of the children or with the housework, Orr and Huen, as well as Huen's mother, often gave the children baths, played with them, and cooked.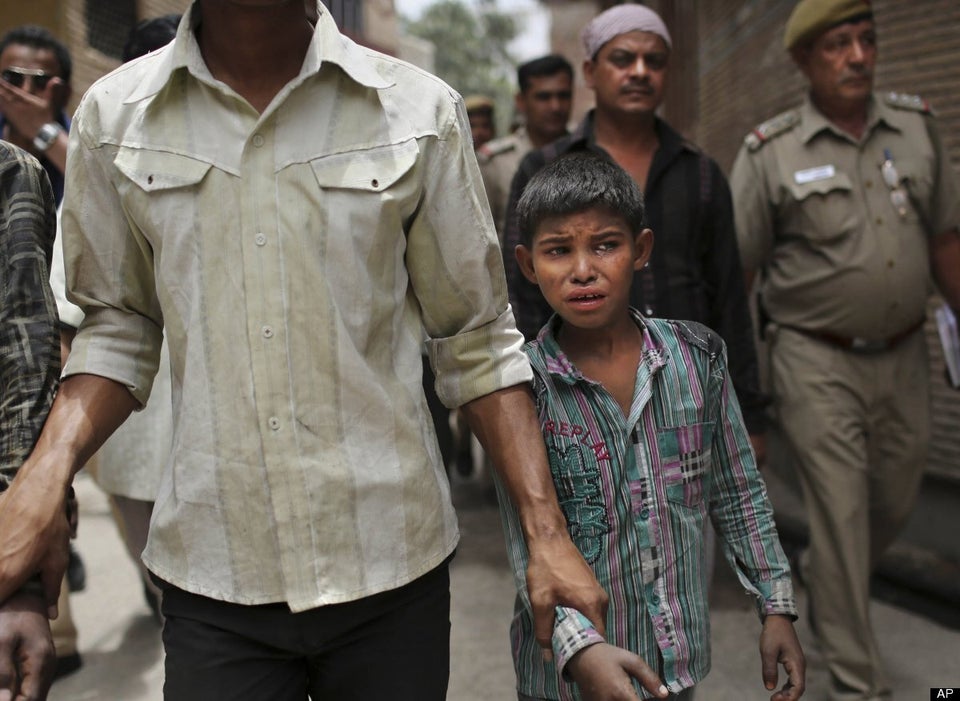 Child Labor Around The World