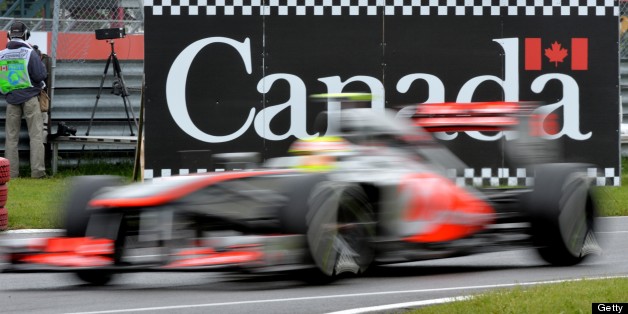 Getty
There's no deal to keep the Grand Prix in Montreal past its 2014 contract expiry date, said Quebec tourism minister Pascal Bérubé Saturday afternoon.
"There's no agreement yet. We're working on it, but it's not fair to say we have an agreement because we're still negotiating with all our partners, which is the City of Montreal, the federal government, Tourism Montreal, and the Government of Quebec with Formula One," Bérubé said from the Gilles Villeneuve racetrack.
QMI Agency reported earlier Saturday that a tentative deal had been reached in which all levels of government involved, as well as Tourism Montreal, would pitch in $15 million each a year to keep the Grand Prix in Montreal.
But Bérubé said although he is optimistic, reports of an agreement being reached, whether an actual deal or one in principle, were premature. He said he doesn't expect anything to be written in ink before the end of this weekend's Grand Prix.
"We have the will to sign this agreement this year," he said, adding that good relationships, open communication and the volition of those involved in the process point to a contract extension.
On Sunday, head of the Montreal Chamber of Commerce, Michel Leblanc, said he is confident there will soon be a deal to keep Grand Prix in Montreal for the next ten years.
Quebec Premier Pauline Marois says she too hopes there will be an agreement that will keep Formula One racing in Montreal beyond 2014.
Marois had a brief face-to-face chat Sunday with F1 president and CEO, Bernie Ecclestone, at Montreal's Circuit Gilles Villeneuve during the Canadian Grand Prix. She said negotiations between different levels of government and Ecclestone have gone smoothly.
"Until now, things are going well and I hope we will conclude an agreement," said Marois. "And when I met Mr. Ecclestone I said to him: 'We have to conclude a win-win agreement.' I think he agrees with me."
Still, Ecclestone made comments this weekend to a Radio-Canada reporter that suggest uncertainty.
"How badly do you need to come back to Montreal?" he said, repeating the reporter's question.
"I do not have any desperate needs to come back. I like Montreal, but as far as the race is concerned, it's not desperately … it's not the only race in the world."
He added that Formula One would "love to" come back, but that he "doesn't know if there's a way to find a solution. It's not me who needs a solution."