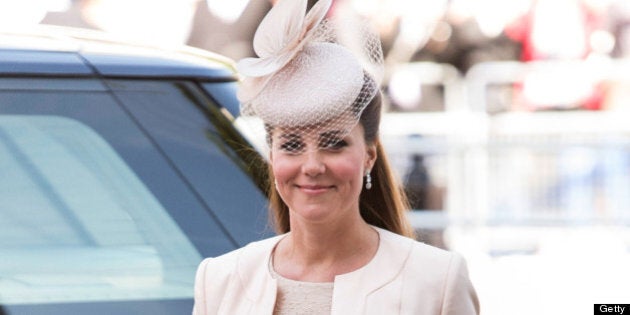 If the Duchess of Cambridge wore blue while shopping for her baby nursery, does that give us a hint to the sex of the royal heir?
That's what we're pondering after Kate Middleton was spotted buying fabric and wallpaper for her and Prince William's Kensington Palace nursery at high-end interiors store Bernard Thorp in London last week. (Click here to see photos of her shopping excursion.)
Sporting a royal blue empire-waist dress, a purple cardigan and her favourite grey slingback wedges, Duchess Kate looked at ease while preparing for her little one's arrival (Middleton is due in July.)
What do you think? Does Kate's wardrobe indicate whether she's having a boy or girl?