King's Investigative Workshop
Richard Rector didn't see the flash of green of the sedan. An instant later, his red ATV was wedged between it and the guardrail on a road in West Jeddore, N.S.
Rector, 18, would spend the next seven months on life support. What initially seemed a routine and innocuous trip to deliver milk to his friend down the road had left him in a coma for months, followed by many more months of rehabilitation.
That was in 2004. Rector now has rods making up for smashed shinbones, plates in his foot, and one leg three inches shorter than the other. His balance is unstable and he suffers from hand tremors. But the most debilitating result of Rector's crash were his brain injuries. He struggles with short-term memory loss and can be aggressive.
For the first few years after the collision, Rector stayed with his father. But the two disagreed often and the living arrangements didn't provide structure or consistency: two keys for brain injury recovery, says his mother Leslie Lowther.
He found a new home at Peter's Place in Bridgewater, one of a handful of small facilities in Nova Scotia geared toward people with brain injuries. But Rector, who was self-sufficient, didn't fit in with the other residents, who also had physical disabilities and needed extra care.
In 2009, Rector got a spot at the then-newly created Quest Regional Rehabilitation Centre.
Rector's mother said an institution wasn't what she wanted for her son, but she was nonetheless pleased to have him closer to home.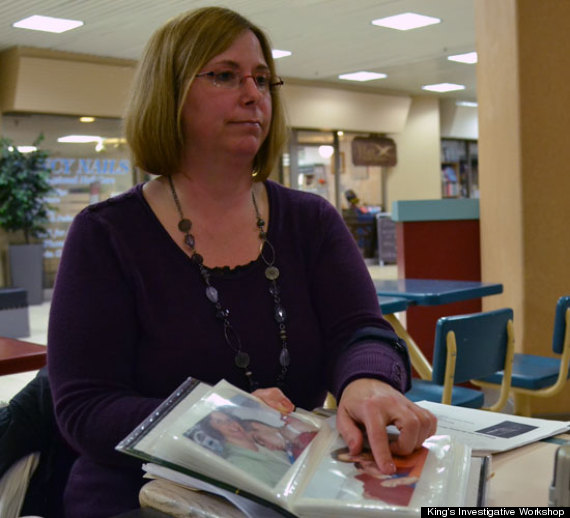 Leslie Lowther looks at an album of photos of her son, Richard Rector, who suffered a brain injury in 2004.
"It wasn't something we were ever going to have our son put in: an institution. That's what it (Quest) is. But unfortunately he's not able to stay at home."
"To sum it up, as far as my son is concerned, he's being warehoused and that's it," says Lowther. "Nothing more."
Lowther said she could never have anticipated how unfortunate a decision it would be to put her son into Quest.
Rector lost interest in everything, says his mother, who fears he's in a deep depression. Once a hockey player and Montreal Canadiens fan, Rector barely reacted to his mother surprising him with an outing to the Windsor Hockey Heritage Centre.
He's tried to commit suicide twice since the accident, and Lowther thinks her son, now 27, may even be regressing at Quest. She says she wishes Quest would remove its sign saying 'rehabilitation' because she doesn't believe it's happening there.
The facility's social worker, Ian Landry, concedes that brain injury is not part of Quest's expertise (complex intellectual disabilities). He says that there isn't much in the way of learning resources, but the facility tries to bring in outside consultants for help.
Every three months, Lowther meets with the staff and the administration in what is called a 'team conference' to discuss her son's progress. Rector, invited to the discussions, has to sit through descriptions of his negative behaviour as part of Quest's commitment to involving clients in their own care plans. Lowther presented research to the staff indicating that negative reinforcement is detrimental to those with brain injuries, like her son. But the process hasn't changed.
The family has tried to get their son transferred to other housing, but his aggression makes service providers reluctant to take him. Lowther says her son is caught in a "vicious circle," where Quest is the primary trigger of Rector's outbursts, but he can't leave without being able to control them.
Even if he were to be transferred, there are few places for Rector to go.
Under the Services for Person with Disabilities, people with brain injuries fall under the category of "intellectual developmental disability," meaning that patients such as Rector are subject to the same hundreds-long wait list as people with intellectual disabilities who are seeking housing. It also means that if he does get placed in a home, Rector would be mixed in with people of drastically different needs such as autism, cerebral palsy, Down syndrome — the list goes on.
It also means if he were to get placed in a home, he'd be mixed in with people of drastically different needs.
Nova Scotia does not currently have a strategy for dealing with victims of brain injuries. Although the Brain Injury Association of Nova Scotia estimates that about 2,000 people suffer from a brain injury every year, the province has only two homes for special care directed toward them.
In the mid-1990s, the association requested smaller housing options for people with brain injuries. In 1995, the provincial government said it was "working toward initiatives in that matter" and wanted to "make some progress in that area in the next year or two ahead." Neither the homes nor the program ever came to fruition.
Lowther has written to the ministers of Health and Wellness and Community Services, and to MLAs pleading her son's case. She's been featured on local CTV and CBC, raising awareness about the lack of services for people with brain injuries.
She's even contacted a large facility in Ontario that provides rehabilitation and supported living apartments to brain injury victims. But at $240,000 a year, she can't afford the care.
Lowther would love to see her son in an environment suited to his needs, whether it's a group home or an apartment with a roommate. A place like home — that's her only requirement.
"Somewhere where you don't hear your echo when you walk in," she says.