King's Investigative Workshop
One of the bright spots in housing for people with intellectual disabilities is an organization called L'Arche. It has been a godsend for Anna Gardin, who moved out of her parents home three years ago and into the organization's group home in Halifax's north end.
Gardin, who is 41 and has a mild developmental delay, says living at L'Arche has helped her grow and live with her disability, which had sometimes made her dependent on other people for simple tasks.
Not anymore. She rides the bus to her many appointments and routine errands. She also enjoys visiting friends in Cape Breton.
L'Arche Halifax is a branch of the international organization started in 1964 by Jean Vanier, who hoped the group could create small faith-based communities for people with intellectual disabilities. Nova Scotia has 16 L'Arche homes and three apartments, which house a total of 74 people. The Halifax home, a duplex, has eight residents.
Gardin's life at L'Arche is a stark contrast to her childhood. She says she was bullied from elementary school until Grade 12 because of her disability. In high school, she was placed in the learning centre; many kids made fun of her for being in the "crazy class."
At L'Arche, she has the benefit of several sources of support for dealing with her disability. Her two brothers and two sisters visit regularly and are heavily involved in the home. Nathan Johnson, one of Gardin's assistants at L'Arche, says that families are welcome to drop by the home at anytime.
Johnson, who was welcomed into L'Arche eight years ago in Antigonish, moved to the Halifax home when it opened three years ago.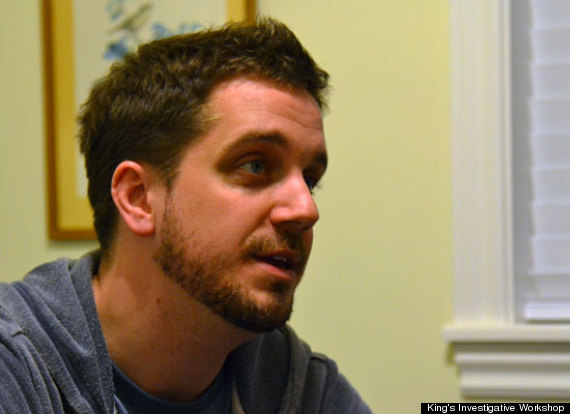 "Here a relationship is key," says Nathan Johnson.
He talks fondly of Gardin and says they've fostered a strong friendship, which is something the organization encourages between its caregivers and core members.
"I am invited and expected to pursue a relationship with Anna socially, emotionally," he says. "It's really natural. Here a relationship is key, it's seen as an asset."
L'Arche bases itself on a community model, which doesn't label people as clients, consumers or patients; they're friends, capable of completing daily tasks, with or without assistance. Members of L'Arche are valued for who they are and what gifts and talents they have as individuals. Visiting the Halifax home doesn't feel like visiting a hospital; rather, it's like hanging out at a friend's house.
The home, which hosts events like themed dinners for members, is a fun place to be. In March, the group transformed the home into a beach for a tropical dinner, replete with candles and bright colours. Images of a Caribbean beach played on loop from the computer.
"I found it really hard, you know, leaving home, because I was nervous and I didn't know what to expect, but I am doing right good now," Gardin said.
CORRECTION: Anna Gardin's name was misspelled in an earlier version of this story. This version has been updated.