Little Blue Lemon Photography
Okay, someone really needs to look over the guest lists these days. If T-Rex crashing a wedding wasn't enough, one photography studio has come up with the next best thing.
Cue giant 'Star Wars' AT-AT walkers (hulking assault vehicles) chasing down your wedding party.
"The inspiration came from the dinosaur picture, and we were all big 'Star Wars' fans. We thought let's do something fun, quirky and different," says photographer Danielle Lombardo, of Little Blue Lemon Photography.
Dainelle and her husband Tony, photographers and owners of the Toronto-based studio, stopped traffic on a portion of Eglinton Avenue right outside the couples' wedding venue at the Eglinton Grand on May 31.
"It took one take and we only had two minutes to do it. We told the wedding party to run like hell with big faces," she says.
LOOK — full size photo here: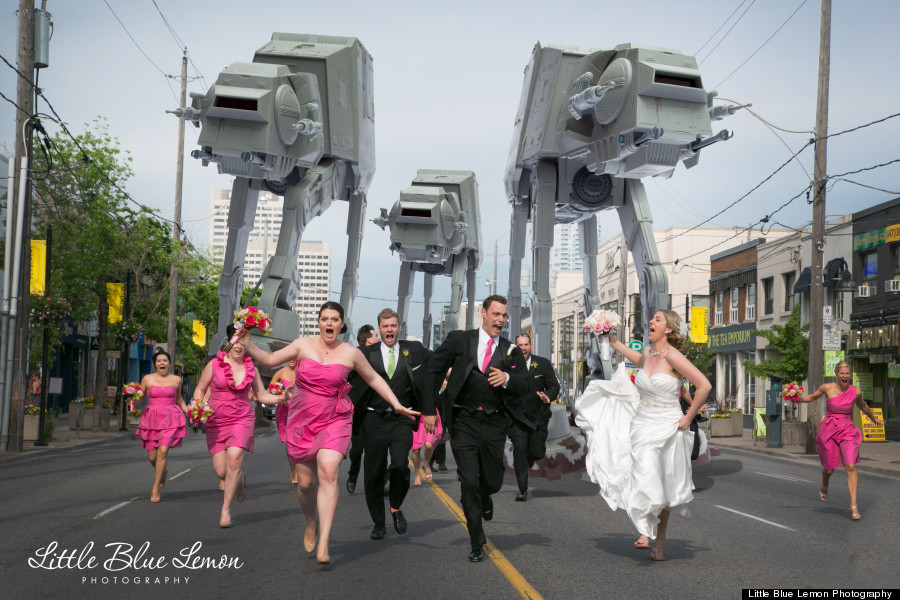 The couple, Paul Kingston and Leslie Seiler, comedians in Toronto have been friends with the Lombardos for some time.
"The bride is notoriously known for randomly whipping out 'Star Wars' facts and before the wedding, one of our photographers sent us the dinosaur photo and said it would be funny to do," Tony says.
And not surprisingly, their photo-shopped creation quickly became a hit. The Lombardos say after posting the photo on their site, they had several requests for similar wedding photos with everything from zombies to dragons.
"We don't want to tire it out. We'd rather push the envelope — the beauty of wedding photography is that there is no restriction on creativity," Danielle says.
Would you want a photoshopped "crasher" on your wedding day? Let us know in the comments below:
LOOK — some of our favourite shots from this epic photo:
AT-Walker Wedding: Best Faces