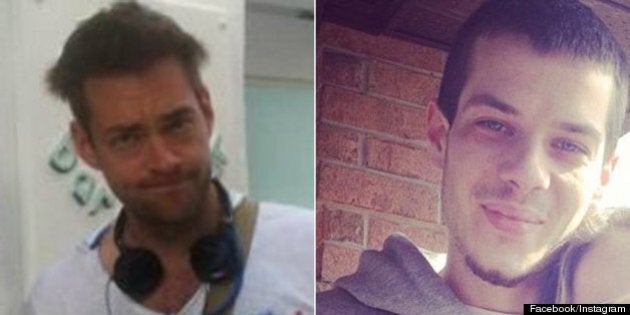 It was a brief appearance in court Thursday for the two men charged with the murder of Tim Bosma.
Dellen Millard, 27, and Mark Smich, 25, appeared via video in Hamilton court this afternoon. The case was remanded until Aug. 1 at 2 p.m. as their lawyers gather information to prepare their cases.
Millard is currently at the Hamilton-Wentworth Detention Centre getting "accustomed to his environment," said Deepak Paradkar, the Toronto lawyer defending him.
"He has to mentally prepare for the long road ahead," said Paradkar, adding that his client is in protective segregation in his cell for 23.5 hours per day.
Millard and Smich are both charged with first-degree murder in the death of Tim Bosma, 32, of Ancaster. Bosma was selling his pick-up truck on the internet and was last seen taking two strangers on a test drive.
Millard and Smich appeared on the screen separately in orange jumpsuits, saying little as the judge scheduled their next appearance. Millard is also charged with forcible confinement and theft of a vehicle. Both plan to plead not guilty.
Since Millard's arrest, Toronto police have reopened the case of Laura Babcock, 23, who disappeared in June 2012. Friends of the Toronto woman say she and Millard were once in a relationship.
Millard has not been interviewed by Toronto investigators, Paradkar said, and any connection is "utter speculation."
Police are also taking another look at the suicide of Millard's father, Wayne, last year.
Millard was interviewed briefly by Toronto police on that matter, but "as far as the family is concerned, it was a non-criminal matter," Paradkar said.
Jennifer Trehearne of Toronto appeared in court representing Smich.
Support for the Bosma family
Millard will appear in Hamilton court prior to Aug. 1 to be fingerprinted. On Aug. 1, the parties could set a date for a judicial pretrial.
At the case's current pace, there could be a preliminary hearing by next June, with a trial by the end of the year, Paradkar said.
Bosma lived in Ancaster with his wife and two-year-old daughter. His disappearance and death has caused a large outpouring of support from around Hamilton, including a fundraiser scheduled for Friday, June 14.
A group called Friends and Neigbours for the Bosma Family is holding the event, which begins at 7 p.m. at the Copetown Community Centre. It will include a cash bar, buffet and music.
Proceeds will go to a memorial fund to support Bosma's wife and daughter.