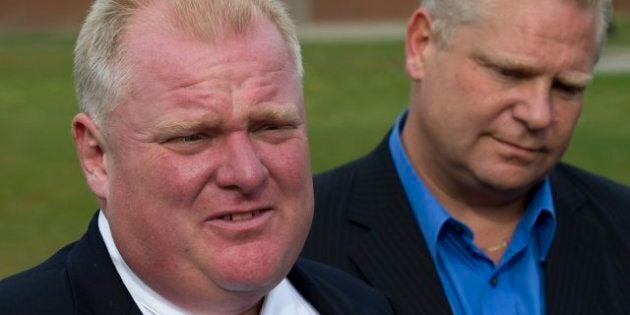 A weekend incident in which a drink was thrown at Toronto Mayor Rob Ford highlights the need for him to have a security detail at public events, his councillor brother says.
Ford was attending an annual street party in Toronto's Little Italy neighbourhood when a woman walked up and threw a drink at him.
The mayor was unharmed in the incident. Shannon Everett, 27, of Toronto, is accused of throwing the drink and faces a charge of assault.
Little is known about Everett, but her lawyer, Marie Henein, released a statement on Tuesday describing her as "a young yoga teacher and multimedia developer" who has had no prior involvement with the police.
Ford alluded to the drink-throwing incident on his Sunday radio show, saying that he was splashed in the face.
Liquid 'could have been battery acid'
"That hurt, man," he said, adding that he believed there may have been alcohol in the beverage.
The statement from Everett's lawyer said that it was "unfortunate" that the mayor has commented on the case "repeatedly outside the judicial forum" and that her client is looking forward to defending herself in court.
In the meantime, Coun. Doug Ford told reporters Monday that he wonders if the weekend incident could embolden someone else to do something more serious.
"The concern is, does this give the green light to any other crazy person out there that wants to throw something hot on him or go after [him with] a weapon?" he said, following similar comments he made on the weekly radio show he hosts with his brother.
Those concerns are shared by security expert Tom Hart, who also questioned what could have happened if something else had been in the cup.
"That water, soda, whatever was thrown on him, could have been battery acid, so it represents a serious threat to him," Hart told CBC News in an interview.
Hart said the mayor should take advantage of the services that the Toronto police dignitary protection unit can provide.
Coun. Ford said he believes the mayor wouldn't need security around him all the time, but perhaps at large events like the weekend street party where the drink was thrown.
Mayor Ford has previously waved off calls for him to have a personal driver. He also faced a death threat two years ago, though he downplayed it then, saying that he didn't take it "that seriously."
On Monday, he appeared to be similarly unfazed by any push to have a security detail follow him around.
When the CBC's Jamie Strashin asked the mayor on Monday if he would consider employing a security detail, Ford joked that the reporter was all the protection that he needed.
"You're my security detail," Ford said, as he drove his Cadillac Escalade out of the parking lot at city hall.
Mayor under the microscope
In recent weeks, Ford has been followed by a seemingly omnipresent group of reporters after a pair of reports were published saying that the mayor had been recorded on video using crack cocaine.
Ford, 44, has denied that such a video exists. He has also said that he does not use crack cocaine and that he is not addicted to it.
The story about the video was picked up by news agencies around the world. The U.S. gossip website Gawker raised $200,000 in an attempt to purchase it from someone who was shopping it to media on both sides of the border. But since then, Gawker has been unable to contact the source it had been dealing with and the alleged video has not come to light.
On Monday, a posting on Gawker said the website has decided to make preparations "for the likelihood that the video eludes our grasp." The plan, if it cannot buy the video as it had hoped, is to donate the collected funds to a non-profit in Canada that helps people with addictions.
Top court to announce intentions on conflict of interest case
Also Monday, the Supreme Court said that it will announce on Thursday whether it will hear an appeal in the conflict of interest challenge that previously threatened to oust Ford from office.
Last year, Toronto resident Paul Magder brought forward an application alleging that Ford had violated the Municipal Conflict of Interest Act when he spoke before and subsequently participated in a February 2012 council vote that absolved his need to pay back donations that went to his private football foundation.
An Ontario Superior Court justice ordered that Ford should be removed from office, but that decision was then overturned in January by a Divisional Court panel and the mayor kept his job.
Ford was elected as the mayor of Toronto in October 2010. He was sworn in the following December.
Prior to becoming mayor, Ford had spent a decade serving as a city councillor in Etobicoke, the Toronto suburb where he lives with his family.