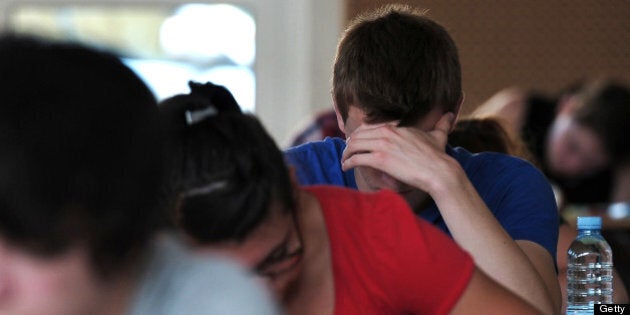 WATERLOO, Ont. - High school may improve young people's minds, but it does the opposite for their bodies.
A new study out of the University of Waterloo shows Canadian students in Grade 12 are in worse health than their younger high school peers.
The research, published in the latest issue of the journal BMC Public Health, found that by the time students reach senior year, they're at a significantly increased risk for chronic diseases such as diabetes and lung cancer.
It shows that over the four years of high school, the number of smokers went up 170 per cent, binge drinking jumped 167 per cent and marijuana use rose by 124 per cent.
What's more, the vast majority of students — more than 89 per cent — didn't meet Health Canada's guidelines for minimum physical activity and barely seven per cent reported eating enough fruit and vegetables.
The study's co-author, Scott Leatherdale, says the fact that large proportions of graduating students fail to meet the most basic healthy living recommendations is cause for concern.
Having even one of the risk factors measured can increase the likelihood of disease, and by Grade 12, the average student shows three, he said.
Students in higher grades appear to be at the greatest risk, he added.
"The only way to avoid a large future burden of preventable disease is to develop more integrated and real-world models of intervention in Canadian high schools," he said in a statement.
The study used data collected from more than 31,000 high school students in nine provinces who filled out the substance use section of the 2010-11 Canadian Youth Smoking Survey.
The national school-based survey is funded by Health Canada and co-ordinated by the University of Waterloo.