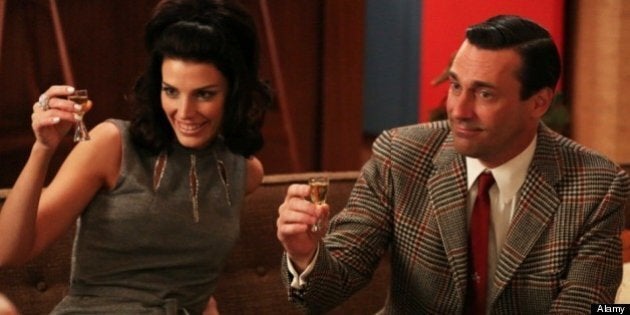 This Sunday marks the conclusion of "Mad Men" Season 6, which, frankly, is something we're in denial about.
Here are 10 fashion lessons we've learned from this season of "Mad Men", and how we can apply them – or not – to 2013.
Story continues below the slideshow: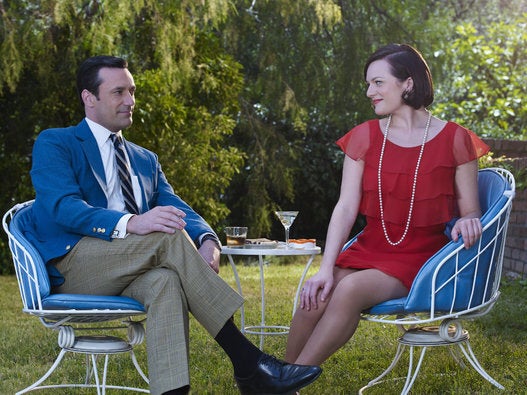 "Mad Men" Season 6 and 7
If there's one thing to take away from this season, it's the presence of vibrancy. Thanks to the switch from early '60s class to late '60s kitsch, bold, brash tones took precedence fashion-wise, proven by outfits worn by Peggy, Joan, and yes, even Harry (who we include begrudgingly). And that's where we can take a cue today: those outfits wouldn't pack the same punch if worn in brown or black, so if you're worried about committing to a "loud" shade of colour, remember how often you've seen green, blue, or red these last few episodes, and how on-point they've been.
Whether worn on jackets (as per Ted), suits (worn by Peggy), or dresses (favoured by Dawn), plaid, polka dots, and florals heavily saturated the '68 fashion spectrum, leaving an indelible mark on the industry – as we can tell today.
Now, the prominence of '60s prints has meshed with the low-key, preppy vibes of the 1990s, perpetuating huge vintage influences, particularly this year. Lines like Banana Republic's Mad Men collection are a testimony to clean-cut kitsch, while designers like Tanya Taylor have seemingly lifted pieces straight from Janie Bryant's wardrobe – proving why we can't stop talking about the series' clothes (or justify wearing them).
From the '40s onward, coordinating colours and fabrics were essential to building strong, work-appropriate ensembles. "Mad Men" once again maintains historical accuracy, and whether it was Megan matching her lipstick to red pants or Joan pairing her purse with a tone in her floral dress, it boosts the strength of colour coordinating; reminding us that being "matchy-matchy" isn't a style death sentence.
Alright, we admit this may have more to do with Tom & Lorenzo's weekly takes on "Mad Men" fashion, but their recaps do make a good point: when characters wear green or blue, they hint towards infidelity (or at least romance), and when red or black, they allude to death. And while we hardly expect anyone to dress with mortality in mind, you can use colour to represent how you're feeling – or at least begin reading into your coworkers' colour choices to create your own mental narrative. When else will green, blue, red, or yellow mean so much? (What? It's fun!)
Joan has always one-upped her coworkers in terms of accessorizing, and Season 6 has been no exception. But in addition to Joan's brooches and scarves-as-headbands, characters like Megan opted for chandelier earrings, Dawn for hoops, and Peggy (as well as the rest of the S.C. & P female team) for buttons and studs. But as the decade progressed, accessories embraced less of a minimalist theme and became an integral part of outfits, so here's hoping Season 7 sees arms full of bangles, head scarves, rings, and statement earrings. (Peggy Olson could totally be the next Rhoda Morgenstern.)
Bob Benson's beachwear has taught us all one important lesson: tailored, well-fitting bathing suits are something we had no idea we wished would come back. But Benson has singlehandedly made us realize that board shorts are the absolute worst, and that preppy pieces have just as much of a place on the seaside. 1968, we thank you. (Those alive now, please follow his lead.)
Vintage aficionados tend to over-romanticize the mid-to-late-'60s, and we have "Mad Men" to thank. Enter: Scarlett, Harry's secretary, who brazenly wore a thigh-high mini dress and go-go boots to the office when she was nearly fired. True, we don't recommend this today (especially if you work in a law office or bank), but the balance of a short hem and generous footwear makes for a classic style – provided you follow the retro vibe and opt for chunky heels, not the early 2000s-centric stilettos.
Before the days of boxer shorts and baggy t-shirts, pajamas were an event – at least according to Trudy Campbell's chiffon number during her separation from Pete. And while fancy, floor-length pajamas are usually available only at thrift shops and vintage stores; Trudy's style – particularly courtesy of her matching housecoat – was a good reminder of how fun pajamas could be. Even if worn while making Peter Campbell feel terrible.