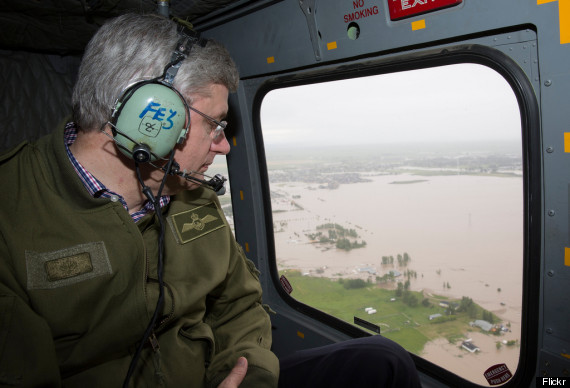 When Prime Minister Stephen Harper flew to Calgary Friday to see first-hand the damage caused by floods in southern Alberta, it was hard not to notice the green jacket.
In each picture, whether aboard his helicopter or surveying the devastation with Premier Alison Redford and Calgary Mayor Naheed Nenshi, Harper could be seen sporting a military flight jacket with wings.
One could say he looked downright presidential.
In fact, a photo of Harper staring out the window of his chopper was strikingly similar to an infamous shot of former U.S. President George Bush surveying the damage Hurricane Katrina inflicted on New Orleans in 2005.
Of course, it took no time at all for people to begin to question the look. After all, Harper did not serve in the military and Canada's commander-in-chief is Governor General David Johnston.
What's with the military jacket? Who does PM Harper think he is? Commander-in-Chief? #cdnpoIi#abflood

— Rujiroj (@Rujiroj) June 22, 2013
Nauseated by Harper wearing a military jacket on TV. Why???? #yycflood

— Matt Bucholtz (@BucholtzMatt) June 22, 2013
Why is PM #Harper wearing a military jacket? Is he an action hero now? Is he suddenly in charge of army? #abflood

— Brett Gilmour (@brettgilmour) June 21, 2013
Harper wore an airforce jacket for photo-op. Do you think the army look makes him seem like 1) commander in chief? or 2) a poser? #cdnpoli

— Su (@Urban_Su) June 22, 2013
Have been reflecting on why Harper chose to wear a military flight jacket at Nenshi/Redford Calgary flood presser. Remain puzzled. #cdnpoli

— Warren Kinsella (@kinsellawarren) June 24, 2013
But Harper's press secretary explained why the prime minister was wearing the jacket in an email to HuffPost on Monday.
"It was given to him by the helicopter crew in 2011 while touring the flood devastation in Manitoba," wrote Carl Vallée. "He was wearing it as a tribute to the military assisting the people in difficult times."
During his visit, Harper told Redford and Nenshi the federal government will do all it can to help Alberta during this difficult time.
"I don't think any of us have seen anything like this," he said.
Also on HuffPost