When Christine Bierman and Mickey Cimolai set off to Canmore last week to begin preparations for their wedding, they were looking forward to a weekend with friends, family and hopefully a bit of sunshine.
"We arrived in town on Tuesday and everything was fine and going according to plan. We were getting ready and pretty excited," said Bierman.
But plans for their dream wedding began to slip away Wednesday evening, when Bierman turned on the television.
"I remember watching the news and seeing that they were calling for 100 millimetres of rain (Wednesday.)
"I kind of had a gut feeling that Canmore was going to flood."
And just as quick as the rain fell, turning nearby Cougar Creek into a raging, muddy torrent, Bierman's dreams were dashed.
"I woke up Thursday to my phone going crazy," said Bierman, of the dozens of text messages and calls from concerned family and friends in their home city of Calgary, wanting to know the status of the weekend nuptials.
After a local state of emergency was called for the quiet mountain town, the couple went for a drive to survey the situation for themselves.
"We brought our binoculars to scope out Cougar Creek. It looked like Niagara Falls going over Highway 1," Bierman remembers.
By Friday morning the saddened, but safe, couple had decided to call off the wedding - that is until local photographer, Crista Lee, called with a game plan.
"Crista told me 'You have to make this happen. We are going to make this happen,'" Bierman recalls.
Lee wasn't going to let water get in her way - nor a closed highway.
The couple had yet to pick up their marriage licence in Banff and flood waters had washed out parts of the Trans-Canada Highway, closing it to commuters between the two towns.
Quick-thinking Lee called the couple's marriage commissioner, who was stuck in Banff, to give the marriage licence to the driver of one of the few transit buses allowed on the highway between Banff and Canmore. The driver brought it to the couple's safety.
Having secured the marriage licence, Lee asked local marriage commissioner Patricia Compton if she could perform the ceremony. Compton, whose own basement was flooding at the time, wanted to take her mind off the situation and agreed to marry the couple.
Saturday morning, the day their 175-guest wedding was supposed to go ahead at the Nordic Centre, Bierman and Cimolai called the only friends in Canmore they knew, asking them to be witnesses.
In their rented condo, without their families - just four friends, the marriage commissioner and the photographer - Bierman slipped into her beautiful white gown and the couple got married.
Story continues after the photo: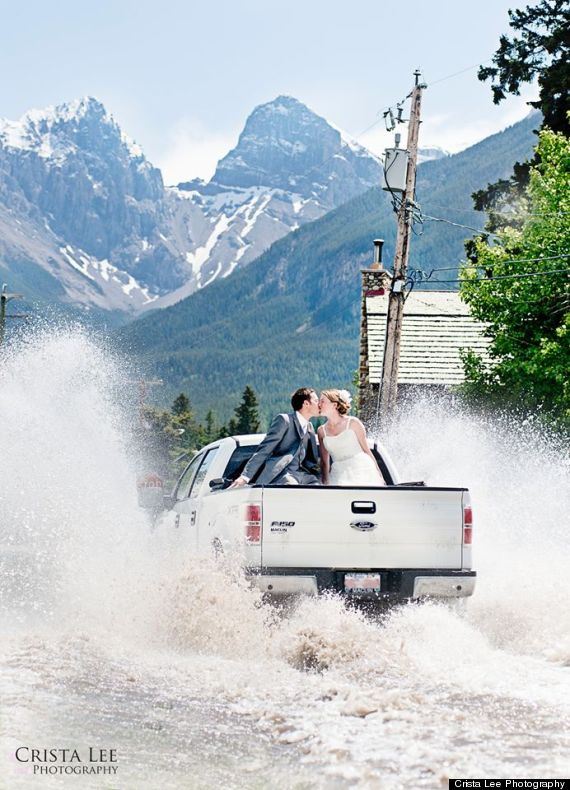 (Christine Bierman and Mickey Cimolai drive away through Canmore flood waters surrounding their rented condo.)
"We were so worried that we would be doing something disrespectful," said Bierman.
"But when the locals themselves started to encourage us, that's when we knew it was going to be ok."
Bierman says she and her husband have no regrets about the weekend, the weather or how things went down. When they finally got clearance to leave Canmore and go home to Calgary they were able to surprise their family and friends with the news.
"Everyone was just so happy we went through with it. It was the best thing we could have done for them, and ourselves, under the circumstance," said Bierman, thankful that it was just she and Cimolai who were stranded - and not their wedding guests.
"We just want to thank everyone who went so far above and beyond what they needed to do. So many people helped us get married that didn't need to help us. They are such good, good people."
Also on HuffPost
Alberta Floods From Above