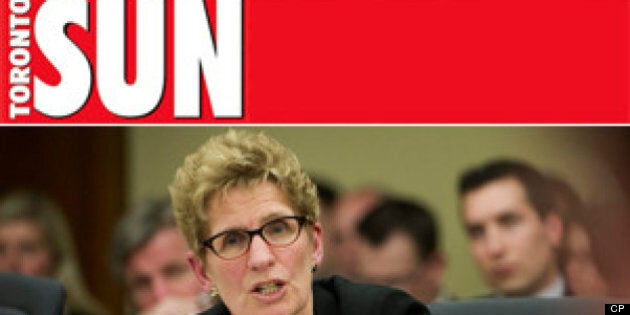 Kathleen Wynne, the first openly gay premier in Canada, may have been on the receiving end of a questionable dig about her sexuality from a Toronto Sun columnist on Monday.
The Sun announced this week it is shuffling the beats of some key writers, with long-time, outspoken municipal affairs columnist Sue-Ann Levy moving to cover Ontario politics at Queen's Park. Columnist Christina Blizzard will become a senior Ontario writer and "voice of the little guy" for the province. Sun veteran Mike Strobel will now cover Toronto's City Hall.
"So Sue-Ann Levy is off to Queen's Park," he wrote. "May God have mercy on their souls. By the time Levy and Christina Blizzard are done with Kathleen Wynne, the hapless premier will be running scared."
Nothing egregious there, right?
Well, it seems an original version of the column suggested something quite different. Namely, that Wynne will "run screaming back to men."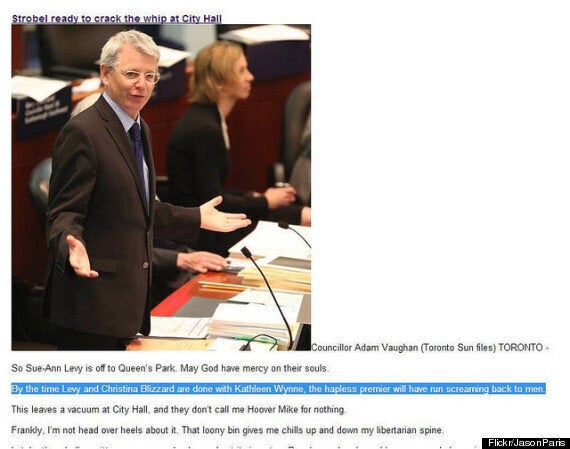 Now, it is possible the line was changed because there was a typo. The Globe and Mail media reporter Steve Ladurantaye suggested on Twitter it reads like an "unfinished thought."
We'll leave that to you to decide for yourself.
But the line certainly sparked outrage on Twitter. See the gallery below for some reactions.
The column comes just days after a much-criticized piece from the Sun in which Wynne's recent fashion choices were dissected. In that column, Blizzard suggested the Ontario premier's decision to sport more dresses and skirts instead of pantsuits is part of an attempt to transform into a "giddy, girly butterfly."
It's a safe bet Levy, who ran unsuccessfully for the Ontario Progressive Conservatives in 2011 and is also openly gay (for what it's worth), is excited to opine about the exploits of Wynne's Liberal government.
A tweet from the premier about the official kick-off to Pride week sparked a strange, passive-aggressive response from the columnist on Monday which suggests, if nothing else, that things are going to get interesting.
Wynne will make history later this month when she becomes the first sitting premier to march in Toronto's annual gay pride parade.