Scarlett Johansson is about to become very popular amongst those who speak en francais thanks to Vanity Fair France.
The style and culture mag has put the American blond on the cover of its inaugural French issue (which is selling for a mere 2 euros) which is sure to end up in many a Parisian home and maybe under some teen boys' mattresses.
No, "The Avengers" actress isn't nude, but she doesn't have to be; ScarJo's covered curves are enough to make any man (or woman) blush.
The 28-year-old heartbreaker flaunts her fit bod in a chic (what else?) black and white gown which features long sleeves and a leg slit which you wish was cut just a teeny bit higher. As for that famous cleavage, it was nowhere to be seen. Instead, Ryan Reynolds' ex-wife wears a stunning gold choker which keeps the eyes off the chest (if only for a few seconds.)
So why was an American put on the first issue and not a Frenchman or woman?
Michel Denisot, editorial director of Vanity Fair France, said in a news conference that Johansson was the ideal cover model, noting that she spends a lot of time in la belle pays and is dating French creative agency manager Romain Dauriac.
"She has every quality imaginable — the elegance, beauty, wit and impertinence that would make her a perfectly decent Parisian if she decides to move permanently into the apartment she has bought in Paris not far from here," said Denisot about his gorgeous movie star covergirl.
Does this mean that the broadway star may flee Hollywood to spend the rest of her days shopping at Hermes and dining on croissants? It's not likely, despite her French romance. The action star is currently filming "Captain America: The Winter Soldier" and will soon begin filming "The Avengers 2."
Sounds like our wannabe Parisienne is going to stay on the East Coast for a very long time!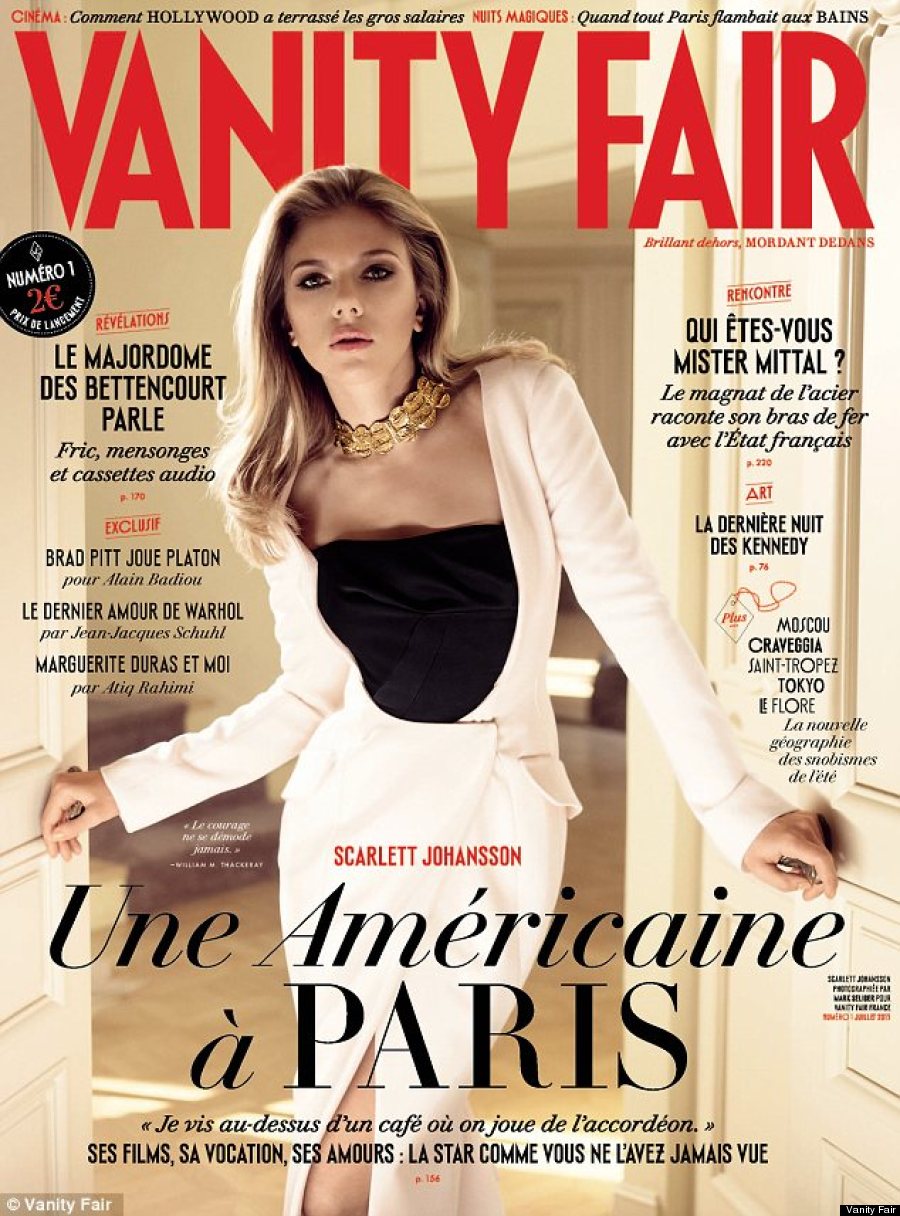 See ScarJo's style over the years...
Scarlett Johansson's Style