CP
Some Ontario parents are accusing the LCBO, the province's monopoly liquor retailer, of having found a sneaky back-door way to advertise to kids: Get them to buy gift cards for their teachers.
The LCBO recently placed a promo on its website encouraging students to "thank your teacher for a great year with an LCBO gift card."
The promo appeared to have been pulled down as of Wednesday, after news stories about it began to circulate, but not before CityNews screencapped it: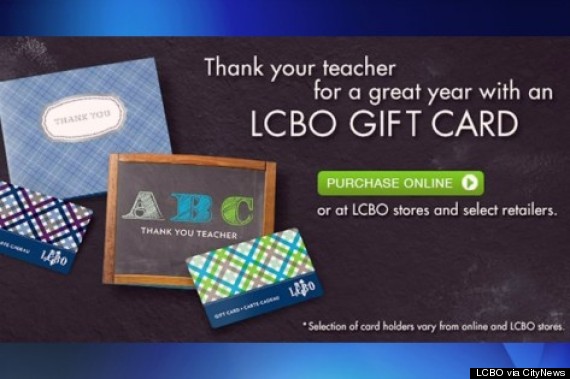 An LCBO spokesperson denied the retailer was trying to target kids.
"The ad is geared toward parents who have already made the decision to get a gift for their son or daughter's teacher," she told CTV News. "The ad is not geared toward minors."
But that's not how many parents took it.
"Why target children?" Jackie Allen, whose seven-year-old son attends Toronto's Waterfront School, asked the Toronto Star. "Since when is it OK for kids to give liquor to their teachers?"
Laurel Tye, the principal at York Street School in Ottawa, told CTV News that gifts that are too personal or expensive are inappropriate from students.
"If it came from the parent it would be fine. If it came from the student it would not be appropriate," she said.
Also on HuffPost