They look tired, muddied and wet but resilient and determined in their demeanor.
But what was missing from those images, says the photographer, was the people who had lost and who came together to help friends and strangers get back on their feet.
"When I looked at a lot of the photos from that first day - and I was guilty of it too - the photos were more of the devastation rather than of the people, the ones giving and sharing with prefect strangers, they weren't of the remarkable sense of community that was taking place," Robinson tells the Huffington Post Alberta.
"At that point I realized that I didn't want the story to be about the environment, I wanted it to be about the people, they're the ones that should be recognized.
"That's why I used the backdrop. I wanted to take them out of the environment and focus on the individual."
The result is a captivating, and at times haunting, collection of portraits of Calgarians at their best during the worst circumstance.
The volunteers seem tired, all look filthy but they also seem filled with purpose and pride.
Pulled from the flooded basements and the mud covered streets of Calgary community of Bow Crescent, Robinson's photos take the volunteers out of the destruction and camaraderie of the situation. But that same devastation and sense of community is carried on to the frame in his subjects' faces, clothes and muddy stains.
"There was a palpable energy in the air," Robinson recalls.
"They were very happy to be involved... They didn't care about the who or the why - they just wanted to help.
"I felt really inspired. They weren't put out by coming to help their neighbours. They were happy to be there.
"It's inspiring to see how giving people in Calgary can be when their neighbours are in need."
Story continues after slideshow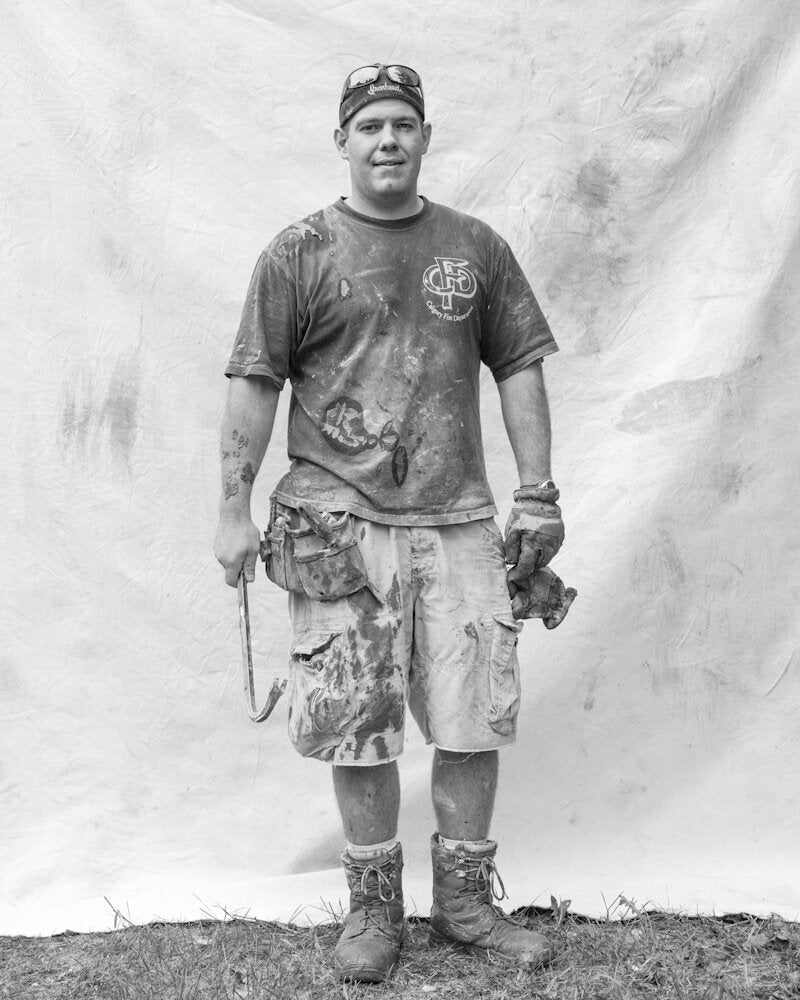 Calgary Flood Volunteers Portraits
The flood, which inundated downtown Calgary, dozens of city neighbourhoods, and towns and cities such as High River, Canmore, Siksika and Medicine Hat, is already being described as one of the worst natural disasters in Canadian history.
Lives have been lost and entire communities remain under water one week later. But for Robinson, it's not a sense of loss or grief that now characterizes the disaster but a sense of community and a sense of giving.
"Having lived in other cities in Canada, I now realize that Calgary is definitely the city for me and last week reinforced my sense of community for this city," Robinson said.
"And it's all because of the volunteers, all of them... the ones I didn't get a change to photograph.
"I'm glad I got to meet some of these people because it really was remarkable."
The images are touching now but will serve as a record of what the city suffered and how it overcame, said Darren, one of those photographed.
"I think this is a spectacular way to demonstrate the Calgary community," he said.
"We get so caught up in putting the effort forward, but without these images the experience only becomes a memory."
And of all those Robinson met, who stands out?
"The kids, they stand out," says Robinson.
"There was a group of four of them... they were nine or 10 - Adam, Jake, Conner and Josh.
"These kids just showed up, they weren't from the neighbourhood, they just showed up. And I didn't see their parents so it was really just them."