Getty
More than one in nine of Canada's homes are heavily indebted because of the country's housing boom, Bloomberg reports.
Data from polling firm Ipsos Canada, presented in a handy Bloomberg chart, shows that a whopping 13.5 per cent — or more than one in eight — of Canadian households had a debt-to-income ratio of 250 per cent or more in 2012.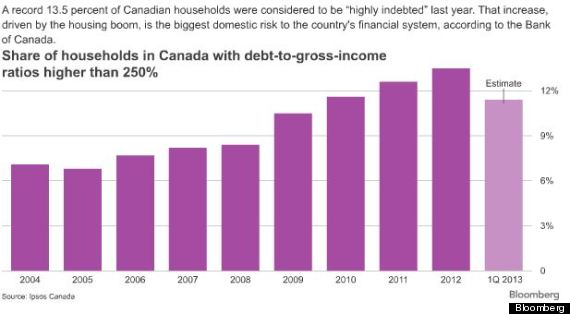 That percentage began ascending steadily from 2006 to 2012, but estimates from Ipsos show that it had dropped to 11.4 per cent in the first quarter of 2013.
But that's still one in nine homes being "highly indebted," as the Bank of Canada calls them, owing two and half times or more of their annual income to mortgages, credit cards and other forms of debt.
Bank of Canada Deputy Governor Timothy Lane says while there has been some "moderation" in household indebtedness, the risk hasn't disappeared, according to the Wall Street Journal.
"We are seeing a moderation over the last year in both the build up in household sector indebtedness, and also the imbalances in the housing markets, but that doesn't mean that the risk has disappeared," he said.
"It's still a risk that we're watching quite closely."
Canada's average household debt-to-income ratio fell to 161.8 per cent in the second quarter of 2013, the Financial Post reported.
It was 66 per cent in 1980, according to Statistics Canada.
Also on HuffPost
Most Expensive Houses For Sale In Canada - June 2013