TORONTO - Few other foods demand so many skills or can make the juices of romance flow so swiftly as the crustacean known as the lobster, write the authors of How to Make Love to a Lobster.
The guide, with the subtitle "An Eclectic Guide to the Buying, Cooking, Eating and Folklore of Shellfish," also explains that during history the "poor man's lunch" was even fed to pigs and used as fertilizer on farmers' fields.
The love-fest to the now prized lobster by co-authors Marjorie Harris and Peter Taylor also has sections on other shellfish ranging from crab through shrimp, prawn and scampi and on to abalone, conch (pronounced "conk," the authors write), mussels, scallops, clams, squid and octopus.
"All of it comes out of either his or my experiences of eating seafood and the kind of experiences we've had wandering around the world and eating and enjoying seafood," said the Toronto-based Harris, a gardening columnist and prolific author.
"I started out as just a total neophyte," she related. "I think the first time I cooked a shrimp I cooked it for about half an hour so it would be really good and cooked. And this was in Maine, home of shrimp. I learned very, very quickly, 'Hmmm, that doesn't look right.' Certainly my experience with seafood and shellfish specifically has been a lot of trial and error."
Readers are treated to plenty of trivia throughout.
"One of the things that I loved doing with this book was the research, the social history that goes with all of these things," Harris said.
The eye-catching title? "Definitely that was one of Taylor's lines," Harris said, chuckling.
Story continues below slideshow: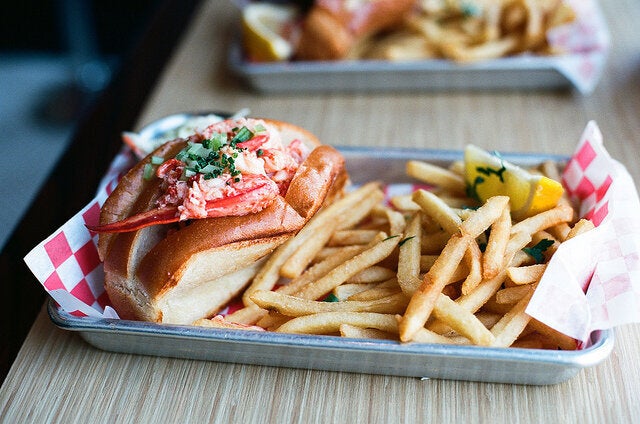 Taylor has written nine books, including "Three Bricks Shy of a Load: A Collection of Stories About Ordinary People Doing Really Dumb Stuff" and the novel "Watcha Gonna Do Boy ... Watcha Gonna Be?" which was produced as a CBC-TV movie and a radio drama.
All information in the book has been updated from the 1988 version, including the list of recommended shellfish restaurants throughout Canada and the U.S. compiled through the authors' experiences as well as those of friends and colleagues. Many of the 40 recipes have been sourced from the chefs of those establishments. Publisher Whitecap Books redesigned the volume.
Wine expert Tony Aspler, author of "Tony Aspler's International Guide to Wine" and "Vintage Canada," has supplied a range of suggested wines for each type of shellfish.
Harris acknowledged the book is more anecdotal than most cookbooks.
"I love reading books like Dickens, for instance, and was astonished to find that in so many of the Dickens novels if a lower-class family is having a feast it's the lower-class or working-class families that are throwing back the lobster," she said.
"It's changed wildly. I think it's because people realized that fishermen used to use it as bait so nobody was eating it actually.
"Part of it is exposure. People are more sophisticated. They're not so nervous about trying unusual things."
Though lobster has the starring role as far as the title and the book's first entry, oysters have more real estate in terms of descriptions and recipes.
"I'm crazy about oysters," Harris admits. "So is Taylor."
Years ago the two used to meet at a now-closed restaurant near St. Lawrence Market in Toronto called Coasters and the book evolved out of their animated conversations about shellfish.
Harris' first memorable taste of mussels was at a villa in the south of France, but she was reluctant to sample oysters.
"It took me a long time to ever, ever even down an oyster, but Harold Town, he was a wonderful artist, once, I can't remember where I was, he said, 'OK, kiddo, you gotta have an oyster and I'm going to show you how to do an oyster properly,' and I was astounded at how much I really, really liked it.
"But of course I was dousing it with lemon and some kind of seafood sauce and all the rest of it. I think now I would probably just go for it pretty much straight."
Shellfish is low in calories "until you start throwing on the melted butter," she noted. Oysters, for example, weigh in at about 300 calories per 500 grams (one pound) — "that's a lot of oysters."
Oysters dominate the list of aphrodisiacs adored by such historical lovers as Casanova, Don Juan and King Henry VIII.
"Apparently there's a lot of zinc in it and this helps develop testosterone, the male sex hormone (which is responsible for the development and maintenance of masculine characteristics), so maybe that's how it all started," said Harris. "It just revs men up."