Despite swirling scandals involving the Senate, the approval rating of Stephen Harper's government is virtually unchanged from before the news surrounding the Duffy-Wright affair broke. An approval rating of 41 per cent is more than enough to get re-elected in Canada and that has slipped only one point since Ipsos-Reid's last poll three months ago.
It is hardly an approval rating to boast about, however, and it is not much higher in the battleground provinces of British Columbia (42 per cent) and Ontario (44 per cent, down three points). Nowhere in Canada does the prime minister have a 'strongly approve' rating in the double digits and his rating is no higher among those most committed voters.
Only 30 per cent of Canadians think that the Harper government has done a good job and deserves to be re-elected. However, this is a bit of a loaded question. With trust in politicians at rock bottom, few Canadians would agree that any politician 'deserves' re-election at all. Case in point: almost 1 in 10 people who said they would vote for the Conservatives also felt it was time for another party to take power.
More Canadians named the Conservative Party as 'of the past' (43 per cent), tired (49 per cent), and arrogant (53 per cent) than their two main federal rivals. Tories were also seen as less representing hope and less inspired than either Liberals or New Democrats.
On these questions, though, there were some silver linings for Conservatives. The party was seen as no more risky than either the NDP or Liberals, and topped the list on questions of competence and being well-rounded.
For Justin Trudeau, the poll points to some potentially problematic perceptions of his party. Liberals were pegged as being more tired (32 per cent) and arrogant (30 per cent) than New Democrats, who managed only 13 and 12 per cent, respectively, on these characteristics. And New Democrats were seen as the party of the future by 36 per cent, more than either the Liberals (33 per cent) or Tories (28 per cent). In fact, more than twice as many Canadians called the Liberals 'of the past' (37 per cent) than they did the NDP (14 per cent).
And Thomas Mulcair has some reason to smile: his party beat out the other two on honesty (41 per cent), being inspired (36 per cent), and representing hope (35 per cent, though the Liberals were just behind at 34 per cent).
Regionally, these perceptions paint an interesting picture. Conservatives surpassed other parties on positive attributes in Alberta and the Prairies, while opinion was mixed in B.C. and Ontario, where Tories were considered the most competent and well-rounded, but also the most tired and arrogant. Things were particularly bleak in Quebec and Atlantic Canada.
The Liberals, meanwhile, were seen as the most arrogant by Albertans and riskiest in the Prairies and Ontario. But British Columbians were more positive, selecting the Grits as the party representing hope and the future.
For New Democrats, Westerners considered the party both risky and honest, while Quebecers had nothing but positive things to say about the NDP.
It all suggests a close race between the three parties. Though the Liberals remain ahead of the pack in voting intentions in every poll that has been released since Trudeau's leadership victory, there are still some major questions being asked about his party.
While the Conservatives are slumping in the polls, they are still seen as competent and have enough of a base to be electorally potent. And though the NDP has fallen behind the pack, they still represent an important element of change from the traditional two parties.
All three are very much still in the running to form Canada's next government.
Éric Grenier taps The Pulse of federal and regional politics for Huffington Post Canada readers every week. Grenier is the author of ThreeHundredEight.com, covering Canadian politics, polls and electoral projections.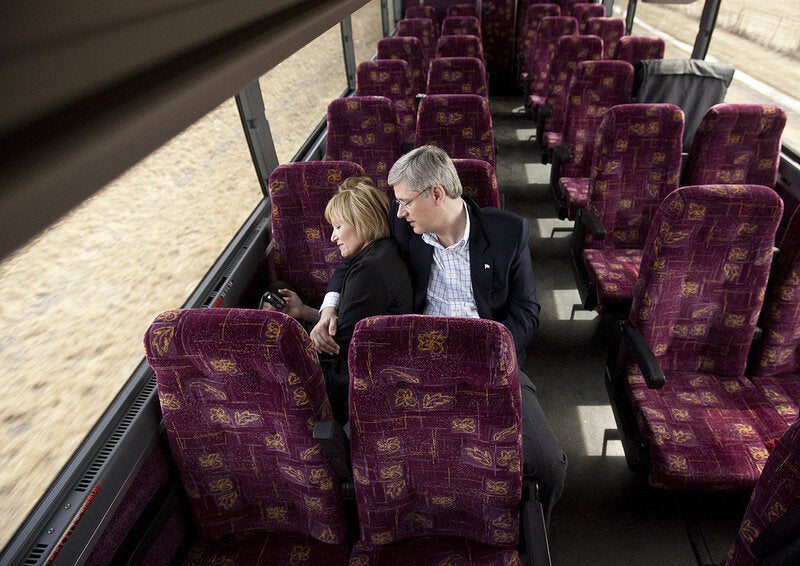 Memorable Stephen Harper Pictures