Getty
The Conservative Party of Canada was mulling paying off Senator Mike Duffy's $90,000 in improperly claimed living expenses, but refused when they saw the price tag, according to documents from the RCMP. Prime Minister Stephen Harper's former chief of staff, Nigel Wright, shouldered the bill and ended up resigning, but Harper claims he knew nothing of the payment. Duffy left the Conservative Caucus. So did Alberta MP Brent Rathgeber, but for different reasons. Senator Pamela Wallin, too. Senator Patrick Brazeau has some money to pay back, but he's adamant he doesn't have to. The Tories' Senate Leader, Marjory LeBreton, stepped down Thursday.
But did you know the Conservatives' are Canada's founding party?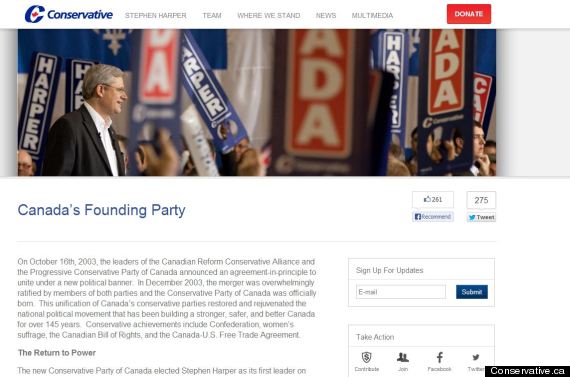 At least that's what they're now calling themselves on their website.
Armed with bold subheads like 'The Return to Power,' 'A Legacy of Achievement' and 'A Great Conservative Future,' the Tories' webpage outlines how the new party was born in 2004 under the leadership of Stephen Harper, breathing new life into "the national political movement that has been building a stronger, safer, and better Canada for over 145 years."
From there, the page says the party has provided economic leadership, strengthened security as well as the Federation itself and improved the environment and health of Canadians.
"The Conservative Government is taking comprehensive action to improve the environment and protect the health of Canadians," the page reads.
"Canada now has tough new regulations against toxic chemicals and an aggressive plan to reduce greenhouse gas emissions."
But the most interesting part of the Tories' new page, Canada.com points out, is that it mostly focuses on painting a powerful portrait of Harper while criticizing the Liberals. Then again, this is the party that "cleaned up government and weeded out corruption than had run rampant in previous Liberal governments."
"Prime Minister Stephen Harper's Conservative Government is upholding the proud Canadian Conservative tradition. Indeed, Canada is on a Conservative path to a future of unlimited possibility."
Do you think the Tories are Canada's founding party? Let us know in the comments below.
Also on HuffPost
Things Canadians Wish Americans Knew About Us