The City of Calgary ran an advertisement in the Edmonton Journal to thank the city for their help during the June flood.
Titled "Edmonton, Your Generosity Runs Deep," the ad featured a photo of a car submerged in floodwater.
"Thank you for all your overwhelming generosity and support," it said. "During the flood of 2013, Calgarians had no better friends than you."
Edmonton sent extensive help to its hockey rival, including police officers, fire and safety personnel and equipment. Edmontonians were also quick to share their thoughts and prayers with their neighbours.
The ad stuck a chord with many on Twitter.
"I kinda teared up when I saw this," said Alana Meisner to Calgary mayor Naheed Nenshi on Twitter.
"One of the few places in this world where fondness runs as deep as the toe-to-toe rivalry. I love Alberta," said Max Moore.
Here's a look at the full ad and reaction to it: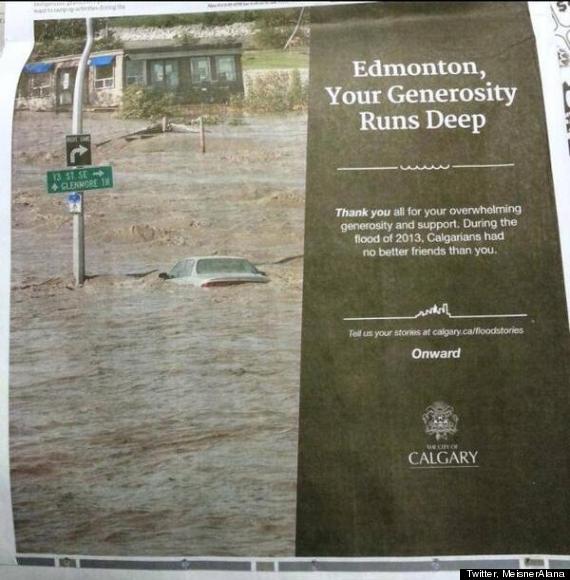 Also on HuffPost
Calgary Thanks Edmonton For Flood Help