A rush-hour rainstorm knocked out power for hundreds of thousands of people in Toronto and the surrounding suburbs, leaving commuters stranded and flooding major roadways.
Shortly after the rain began just before 5 p.m., Environment Canada issued a flood watch for the city of Toronto due to heavy thunderstorms. Parts of the TTC had flooded, and service was stopped in certain areas due to signal issues, according to the TTC.
Story continues below slideshow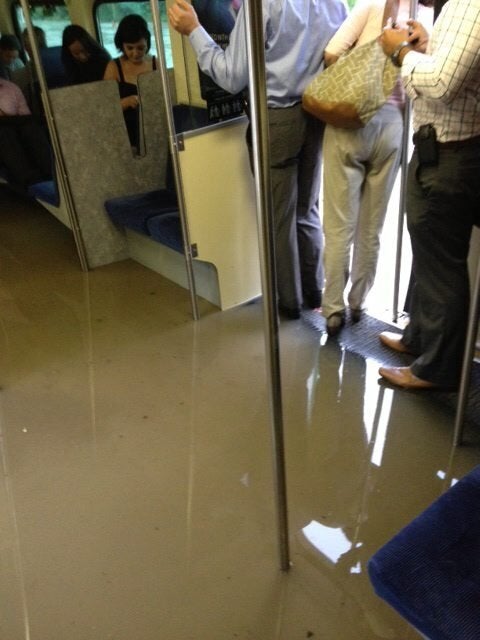 Residents also reported flooding in the city's underground PATH network.
More from The Canadian Press
Heavy rains have knocked out power for hundreds of thousands of residents across the Greater Toronto Area, including the majority of Mississauga, and so badly flooded some roads and major highways that commuters abandoned their waterlogged vehicles.

Mississauga, a city of more than 700,000, saw some of the worst of the blackouts with 80 per cent of the municipality plunged into the dark, according to power distributor Enersource. The utility said it hoped to have the power back by midnight, but made no promises.

Environment Canada said some parts of the GTA had been drenched with more than 90 millimetres of rain, and the total was expected to top 100 mm by night's end, handily beating the previous one-day rainfall record of 29.2 mm in 2008.

Water from flash flooding poured out of sewer drains while Toronto's downtown core was dotted with abandoned vehicles, some sitting in water up to their windows. One woman, sporting a T-shirt and shorts, dove head-first through the window of her marooned car before wading away in the thigh-deep water.

Drivers were not the only ones dealing with problems getting around after the severe thunderstorm system hit about 5:00 p.m.

All of Toronto's subway service was temporarily halted due to power and signal issues. Some stations were also flooded. Partial service has since resumed but large parts of the system are still shut down.

Go Train commuter service was also disrupted after a portion of track along the western Lakeshore line was left under water. Photos show one train sitting in water up to the lower windows.

Porter Airlines tweeted at about 7:00 p.m. that it was cancelling all flights out of the city's downtown airport for the rest of the evening due to power outages in the terminal.

As many as 300,000 Toronto Hydro customers lost power, while Hydro spokeswoman Tanya Bruckmueller said repair efforts might be further dragged out by the onset of nightfall.

"There's not a lot that will change once it starts getting dark. It'll be harder for the crews... they need to be able to identify where the damage is so it'll take longer in the night.''

More than 20,000 customers in Markham and Richmond Hill have also lost their electricity, EnerStream Inc said.

Major artery the Don Valley Parkway was partly closed as the Toronto Region Conservation Authority said the Don River's banks were at risk of collapse, while provincial police warned drivers to steer clear of parts of Highways 427, 401 and 27, all due to flooding.

Toronto police advised residents to stay at home if possible and avoid driving completely.