The catastrophe that struck Lac Megantic Saturday has been captured in a photo taken from space.
NASA released a photo of the Quebec town taken on Saturday at 2:59 a.m., after a train carrying crude oil derailed, sparking explosions and a fire. The space agency also compared its image of the fire to a photo taken the Thursday before.
The images were taken using the Visible Infrared Imaging Radiometer Suite on the Suomi NPP satellite. Clouds obscured the photo taken Saturday, NASA noted.
Half of Lac Megantic's downtown core has been destroyed. At least 13 deaths have been declared, and dozens remain missing.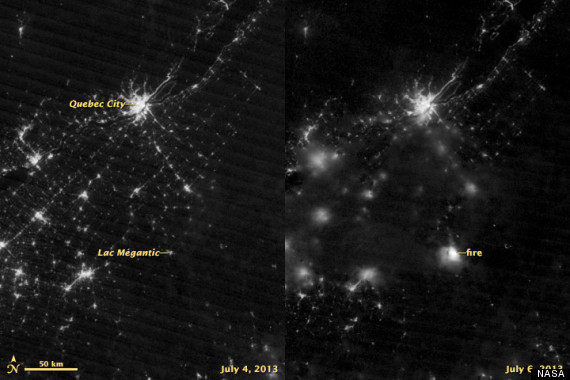 See more photos from Lac Megantic below: