Carly Rae Jepsen's baseball style is always spot on -- the fashionable Canadian singer manages to pull off a cute and sporty look whenever she's at the mound.
Her throwing abilities, however, could use a little work.
The 27-year-old threw the ceremonial first pitch at a Tampa Bay baseball game on Sunday but missed her mark, instead throwing the ball wildly toward the sidelines and hitting a photographer nearby.
The "Call Me Maybe" singer was clearly embarrassed as she laughed and covered her face with her hands.
She may not have the best aim, but the British Columbia-native's baseball style was definitely on point. Jepsen wore a Tampa Bay jersey tied at the waist, a pair of denim shorts with fishnet stockings and grey Converse sneakers; the look was both flirty and athletic.
With her newly-dyed red hair in a stylish side-braid, the Canuck pop star looked so darn cute it was easy to forget her awful throwing arm.
You'll get 'em next time, Carly Rae!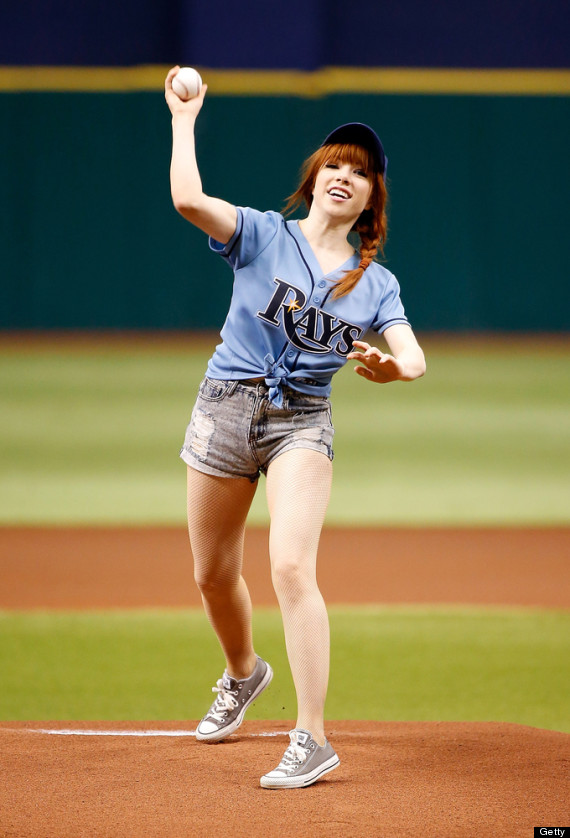 Carly Rae Jepsen's style evolution:
Carly Rae Jepsen's Tween-Leaning Style