Stephen Harper's Twitter account made a big mistake Monday morning, tweeting an incorrect handle for Bernard Valcourt which was quickly turned into a fake satirical account.
The prime minister's account tweeted out the incorrect handle @MinBValcourt in announcing Valcourt will be keep his cabinet post as minister of aboriginal affairs and northern development. Harper's account tweeted all the details of the cabinet shuffle Monday morning.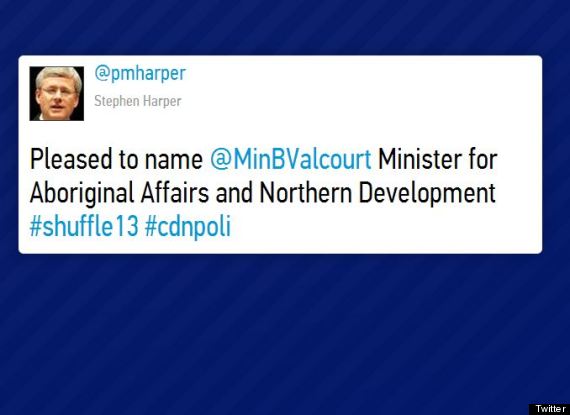 Someone swiftly capitalized on the error, grabbing the handle and using it to criticize the government's policies on First Nations peoples and to crack jokes about the mistake.
The PM's account corrected the gaffe soon after, tweeting out Valcourt's correct handle @Min_BValcourt and deleting the earlier post. The fake Valcourt account was suspended soon after, but then oddly came back up.
looks like @pmharper even tries to muzzle his fake ministers #unsuspended

— Fake Bernie Valcourt (@MinBValcourt) July 15, 2013
Valcourt wasn't the only handle mix-up Monday. Harper's account also tweeted an incorrect handle for new Minister of National Defence Rob Nicholson.
Twitter was quick to react with glee to the errors. Check out some of the best reactions in the slideshow below.
Also on HuffPost