By The Numbers: 290 pounds at my heaviest, and currently 139.5, total weight loss 150.5 pounds
The Weight Gain: Growing up as a kid, I was always overweight but not as bad in my teenage years. The weight gain started as I became a young adult and I stayed around 250 pounds for many years. In 2011, it went up to 290.
I tried several diets but lost a bit and gained it back — I was not focused.
The Final Straw: I was only 10 pounds away from 300. I also had severe health issues: I couldn't walk or breathe properly and was in pretty bad shape.
Story Continues Below. Check out more of our inspiring weight loss stories: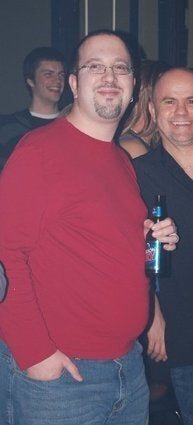 Lost It: Weight Loss Success Stories
The Plan Of Attack: In February 2012 I went into physio for my right knee and asked them about losing the weight. This was the start of my healthy lifestyle change.
The Food Element: I ate everything and just portioned it out and also wrote in a journal every day with Sparkpeople.com. One of the things I gave up was eating junk food. The hardest adjustment was staying on track and focusing. I ended up (eating) between 1,200 and 1,500 calories (per day).
The Exercise Factor: In April 2012 I joined the Deseronto Fitness Rec Centre under Joe Sliwa. At that time I used the elevator lift and had a walker because I could not manage the stairs. Joe put me on a basic exercise routine and as a member, I had personal training as well. First off, my stamina and health improved.
At the end of April I entered a weight loss challenge at the gym and I won by losing the best percentage of weight — I lost 34.1 pounds. I also used fitness videos under Joe's Personal Training and Fitness program and lost over 100 pounds.
Now, I attend the gym in Deseronto under Mandi Fletcher at Elite Personal Fitness where I am a member and get personal training from the gym. I continue to exercise at the gym, at home and walk quite a bit.
The Current Day-To-Day: Presently it's like a miracle for my health and well-being. I still monitor everything on Sparkpeople.com and ... I am even now down to my teenage weight.
The one regret I have is not starting sooner, because I was so unhealthy. I advise other people to take baby steps and not set huge weight goals at the beginning. Eat healthy and exercise and stay focused.