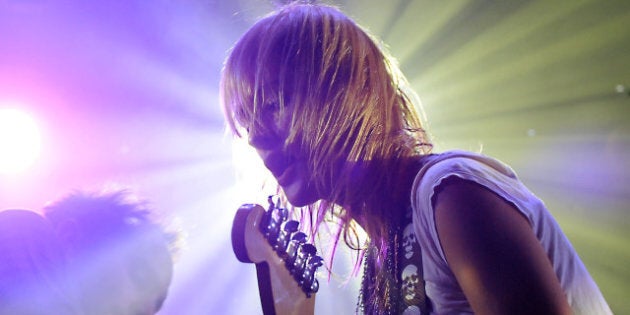 The Polaris Prize short list was revealed today in Toronto, with ten releases up for Canada's critic-voted best album music prize and a chance to win $30,000.
So let's get down to business.
2013 Polaris Music Prize Short List:
A Tribe Called Red – Nation II Nation
Colin Stetson – New History Warfare Vol. 3: To See More Light
Godspeed You! Black Emperor – 'Allelujah! Don't Bend! Ascend!
Tegan and Sara – Heartthrob
Whitehorse – The Fate of the World Depends On This Kiss
Young Galaxy – Ultramarine
Zaki Ibrahim – Every Opposite
Polaris Prize founder Steve Jordan also announced new hosts for the Polaris Prize gala, in which the winner will be decided in a backroom vote during the actual event, on September 23 at the Carlu in Toronto. Replacing CBC Radio 3 host Grant Lawrence, who has been MCing the gala since 2007, will be two-time nominees Kathleen Edwards and Shad.
Edwards, who made the short list last year with "Voyageur," had this to say to the Polaris Prize's outgoing host: "Fuck you Grant Lawrence, suck it!"
A jury of over 200 music critics, broadcasters and bloggers pick the long and short lists, while eleven of them are named to the grand jury to select the $30,000 Album of the Year winner. Past Polaris Prize winners included Feist in 2012), Arcade Fire in 2011, Caribou in 2008 and Final Fantasy (Owen Pallett) in 2006.