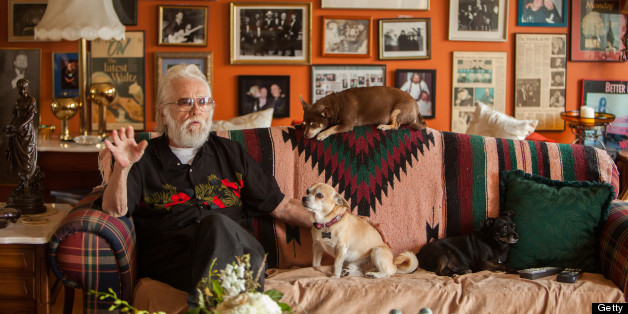 Getty
Canadian music icon Ronnie 'The Hawk' Hawkins is selling his home — which he affectionately calls Hawkstone Manor — for $14.9 million.
Hawkstone Manor, located in the Kawartha region of Ontario, has been home to the rockabilly legend and his family for the past four decades and has hosted other Canadian legends such as Gordon Lightfoot and Kris Kristofferson.
"Once you see this place, it's magic out here," Hawkins said.
It's not just the home, barn and guest cottages that make the property a treasure; the house is situated on 67-hectares of woodland and has 1,097 metres of waterfront on Stoney Lake.
Hawkins, 78, says that he and his wife Wanda can no longer afford the time and money it takes to keep the place up.
"I'll soon be 80 years old and me and my good-looking lady for many, many years just can't keep it up anymore," Hawkins told Rick MacInnes Rae on As it Happens Monday.
"You need to have about five people up here to make it first class all the way and, of course, she been working like a slave for years, and we hire a few people now and then but not enough, so now it's just… we can just get a little spot closer to doctors and hospitals."
He and his wife are considering moving to Peterborough, where many of her family and friends reside.
Hawkins was born in Arkansas but spent most of his life and found most of his success in Canada. In June, he was appointed to the Order of Canada.
Hawkins joked that his dream would have been to open a retirement village on his property so that he could stay there.
"I'd like to talk to Justin Bieber, he can afford with the money he's making to buy this whole property and build the nicest retirement home in Canada."
Over the past few years, Hawkins has received some interesting offers for Hawkstone, one of came from a wealthy Russian couple who planned to make the home a servants' quarters as they planned to build a more grand residence beside it.