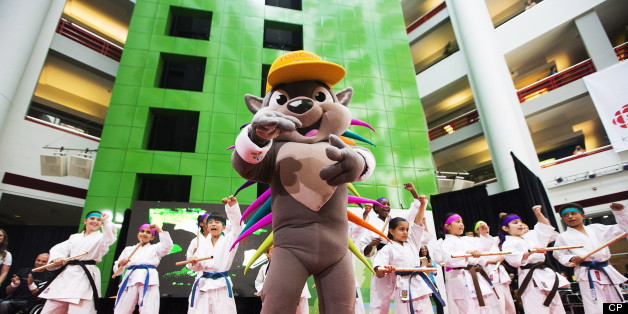 CP
TORONTO - A Japanese comic book and a ubiquitous rodent combined to form the inspiration for the 2015 Pan American Games' mascot.
Pachi the Porcupine was unveiled on Wednesday after a nationwide contest was held among school children to design the international sporting event's cartoon character.
Four Grade 8 students from Buttonville Public School in Markham, Ont., had their design selected among 4,000 entries.
"(The name) came to me once when I was reading my manga book, which is a Japanese comic book. There was a Japanese phrase called 'pachi pachi,' and in English it translates to 'clapping with joy,'" said 14-year-old Paige Kunihiro shortly after the mascot was revealed in a ceremony in downtown Toronto. "We know that in the Pan Am Games there's going to be a lot of cheering on our favourite athletes and superstars."
Kunihiro put together the winning entry with classmates Fiona Hong, Jenny Lee and Michelle Ing — all of whom are 13 years old — after physical education teacher Mari Ellery had them enter the contest as part of a school project.
Pachi has 41 quills, one for each country participating in the Pan Am Games. The contest required that all entries use the official colours of the Games, so the quills are multicoloured, with each representing the qualities Pachi has: green for youth, fuchsia for passion, blue for collaboration, orange for determination and purple for creativity.
"We saw that there were so many colours left, so we wanted to incorporate all of them so we put them on the quills," said Ing.
Added Lee: "What better way to take advantage of the quills."
The girls chose a porcupine for the anthropomorphic mascot because it's indigenous across North and South America.
"We were initially doing research about Canadian animals and Michelle came across the porcupine and we looked into that because we were like, 'well that's unique,'" said Lee. "She found out that they are found in all of the countries that are participating."
Olympic gold medallist Rosie MacLennan, from Toronto, and Paralympic gold medallist Tyler Miller, from Kitchener, Ont., were also on hand to introduce Pachi in front of hundreds of children at Kids' CBC Days.
"Mascots are the face of the Games and something that I remember fondly from the Games I have competed at," said MacLennan in a statement. "Pachi is definitely lovable and memorable."