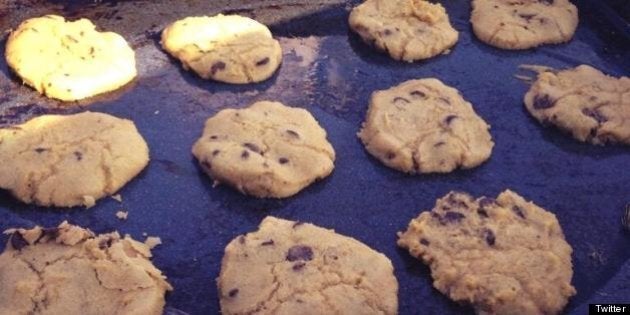 You make good cookies, Mr. Bangild. Yes, it's been hot in Ontario the last few days. So hot in fact that Jeff Bangild, a Toronto Police officer, tried to bake cookies in the back of his car.
Bangild started on Wednesday morning with a package of Pillsbury chocolate chip cookie dough.
The cookie sheet was left in the back of Bangild's parked car and the officer went on with his day and waited with bated breath.
He had some frozen yogurt, checked on his cookies and noted that his car got unbearably hot.
But hey! It worked and near the end of the day, Bangild had a delicious batch of cookies for his ride home.
He did note that the temperature in his car reached a dizzying 52 degrees celsius (125 F). Bangild's delicious experiment wasn't just for laughs and dessert. The officer wanted to remind people of the dangers of leaving pets and kids in a hot car. There have been a number of incidents this year of small children dying because they were left by their guardians in a hot car.