Everyone bow down to Beyoncé's gangsta grill.
In a new teaser for her "Bow Down" music video, Queen Bey shows off a pair of diamond dentures, telling her haters to "bow down" and even cursing them on the track.
The superstar performer shows off her assets in a pair of high-waisted, glittery black shorts and a belly-baring top. She finishes off the tough girl look with a baseball cap (which, inexplicably, has mouse ears) while gratuitously flashing her mouth jewelry.
"Sasha Fierce" performed the song for the first time ever on Monday in her hometown of Houston Texas, during her Mrs. Carter world tour. Before she started singing, a video montage played along with audio of media rumours on the loud speakers, including one particularly nasty rumour that circulated last year which suggested she was lying about being pregnant.
This aggressive side of Beyoncé is a far cry from the pop star we've come to know and love. She was all smiles in Toronto earlier this week, waving at hoardes of fans and being polite with photographers while Jay-Z and her 18-month-old-daughter were in tow.
Remind us never to get on Bey's bad side.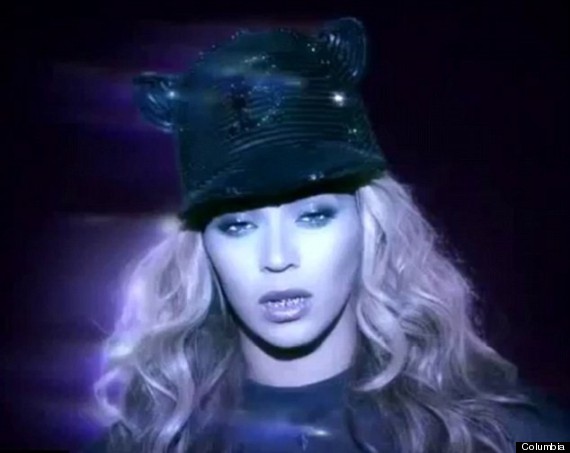 Also on HuffPost
Getty

WireImage

Getty

Getty

Getty

Getty

Getty

WireImage

Getty

WireImage

FilmMagic

FilmMagic

FilmMagic

Getty

FilmMagic

WireImage

Getty

Getty

Getty

WireImage

WireImage

WireImage

Getty

Getty

Getty

Getty

Getty

FameFlynet

Pacific Coast News

Getty

Pacific Coast News

Pacific Coast News

Getty

Getty Images

Getty Images

Getty Images

Getty Images

Getty Images

Getty Images

Getty Images

Getty Images

Getty Images

Getty Images

Getty Images

Getty Images

Josiah Kamau via Getty Images

Raymond Hall via Getty Images

Alo Ceballos via Getty Images

Josiah Kamau via Getty Images

Josiah Kamau via Getty Images