Earlier this month, Emma Watson revealed that she owns only eight pairs of shoes. (Madness.) Granted, for most of us, that's entirely reasonable -- eight pairs of shoes is more than enough to take you from day to night, and through the weekend. But in the world of celebrity? Where entire homes are built on mountains of footwear, and likely for free? Well, this revelation is shocking.
So with shoes on the brain, we began merging the worlds of celebrity and footwear, mostly to see which brands or styles Emma Watson could campaign for. The answer: endless. But that didn't stop us from compiling a list of actors and musicians who are closely linked with particular designers or shoe types.
Story continues after the slideshow: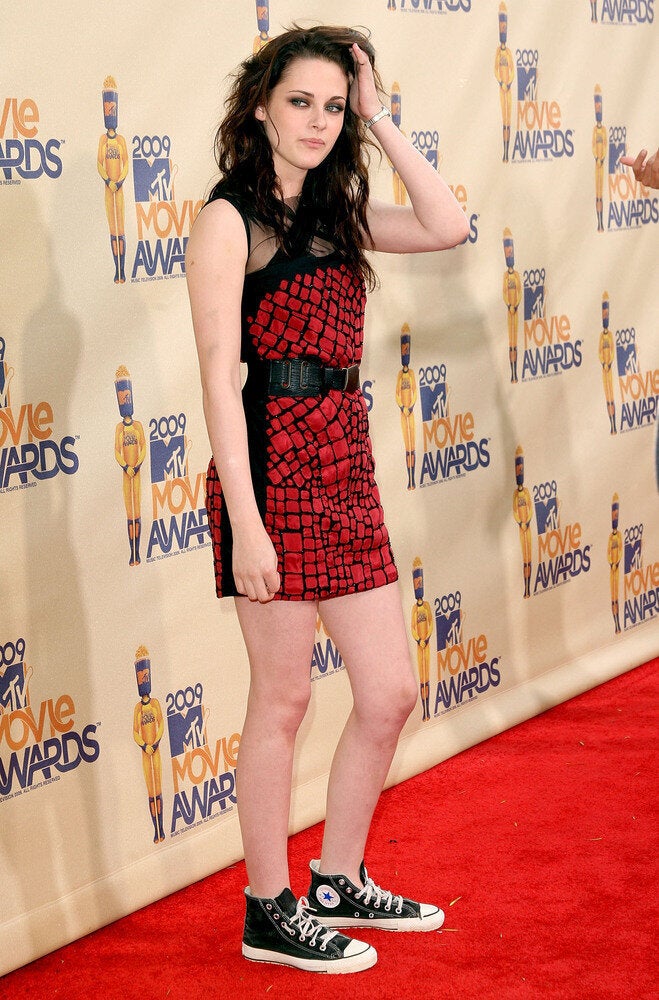 Celebrities Favourite Shoes
1. Kristen Stewart And Converse
Kristen Stewart's affinity for Converse makes sense. Considering the actress is renown for being herself by maintaining her casual, jeans-and-a-t-shirt style (not to mention refusing to put up with out-of-line questions about her personal life), it'd be surprising if she didn't embrace the iconic brand. Going so far as to wear them on award show red carpets as well as out and about, it's only a matter of time before she designs her own line – right? (And if not, Converse, can you make it happen?)
2. Lady Gaga And Platforms
Lady Gaga's shoes aren't for the weak of feet. Whether covered in meat, are seemingly impossible to walk in (see: Alexander McQueen heels from her "Bad Romance" video, or any worn to award shows), or defy logic and gravity, the singer has made "weirdest, most intimidating platform shoes" her trademark. Don't try it at home.
3. Gwen Stefani And Doc Martens
You'd be hard-pressed to find another singer as tied into the '90s as Gwen Stefani (minus Courtney Love, whose fashion sense we also adore), so the No Doubt front woman's continued affection for Doc Marten's is arguably bigger than all of us. Showcasing the brand around London, L.A., and onstage, the singer re-affirms the versatility of combat boots, making us wish it was cold enough to wear them again – and that we still had our original copies of "Tragic Kingdom."
4. Sarah Jessica Parker And Manolo Blahnik
"Sex and the City's" Carrie Bradshaw helped draw worldwide attention to Manolo Blahnik, but in addition to the character's shoe obsession, Sarah Jessica Parker has also become linked with the brand. Surprisingly, she's gotten even closer, since the actress has recently signed on to design a collection for Manolo Blahnik, prompting choruses of "finally!" from every human with a television.
Rihanna rocks the best of both worlds: in one, she's stage-ready and heel-centric, making best-dressed lists after nearly every public event. On the other, she's casual and Adidas-clad, favouring high top sneakers and leopard print styles when she's – like the song goes – living her life. However, to shake things up, she was recently spotted in Cologne, Germany seen wearing an Adidas jersey with Air Jordan shoes. Trust us: in grade school, this would've been a much bigger deal.
6. Beyoncé And Christian Louboutin
An all-American singer designing a collection for an All-American shoe brand is a match made in heaven, so perhaps this is the love story Ms. Swift has been singing about. Having just revealed the Fall 2013 line, Keds and the singer have elaborated on the existing "Red" collection, now offering styles with sequins, polka dots, and florals. Perfect for the brand, perfect for Taylor Swift's fans, and perfect for autumn. (Though some of us had the Mischa Barton-fronted Keds back in the mid-2000s, and we have no regrets.)
8. Alexa Chung And Smoking Slippers
9. Kate Bosworth And Isabel Marant
When a celebrity loves a designer, sometimes they really love them. Case in point: Kate Bosworth and Isabel Marant, who go together like HuffPost and lists about fashion. Whether wearing leather ankle boots or Marant's high top platform sneakers (that Kelly Oxford often wore, too), Bosworth flew Marant's flag high, making it surprising that the actress hasn't landed a campaign with the designer yet.
10. Victoria Beckham And Stilettos