He may look like just another kid with shaggy blonde hair and a skateboard in the crook of his arm, but an Edmonton model is making waves after landing a spot on the cover of one of the world's top fashion magazines.
Dorian Reeves, 20, can be seen gracing the cover of this month's Italian Vogue in nothing more than a pair of black boots and briefs.
Reeves, who has previously walked the runway exclusively for Versace, pays homage to the designer on the cover of July's Vogue, recreating images shot in the 90's by photographer Richard Avedon.
"It was the biggest, most surreal moment of my life," Reeves told the Edmonton Journal of his Vogue debut.
Story continues below the photo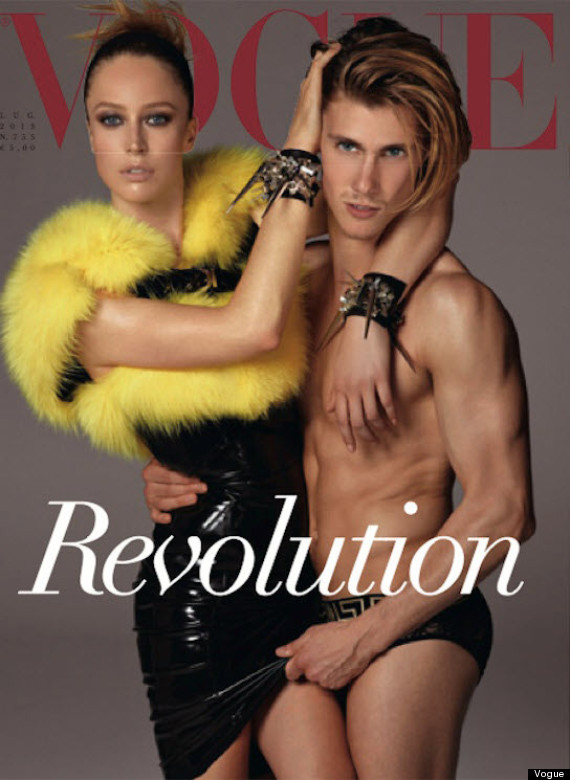 "It was something I always wanted to do, but didn't think I could actually do it. I didn't even know what to feel. Even now, I'm still buzzing."
Reeves told the Journal he was invited to meet with renowned fashion photographer Steven Meisel earlier this spring.
"(Meisel) doesn't meet male models, ever. So I was like, 'This is a big deal.'"
After another meeting and several weeks of waiting, Miesel – known for his work with Vogue and photographs that appear in Madonna's 1992 book 'Sex' – booked Reeves to shoot the July cover with Brazilian model Raquel Zimmermann.
The edition – a huge milestone in Reeves career – also features a six pullout covers featuring international supermodels Gisele Bundchen, Tony Ward and Linda Evangelista.
Reeves is also joined by fellow Edmonton model Megan Collison in the spread; her fifth time being featured by the magazine.
Story continues after slideshow
And while Reeves may be climbing his way to the top of the fashion world in New York City, the self-described "extreme sports junkie" makes time for the hobbies he learned growing up in Alberta.
"There is no better feeling in this world then racing down a powdery mountain on my snowboard," the model told Kenton Magazine last year, describing the Canadian Rockies as the best feature of his home province.
Reeves told blog The Fashion Law earlier this year that so far the modeling world has exceeded his expectations, but there is always the downside of "the manipulative behaviour of those in 'power.'"
On his new-found fame, Reeves told Kenton Magazine, he will try to follow his own advice - "Have patience. Be open. Most importantly, stay true to yourself. Push yourself to constantly grow as a person."