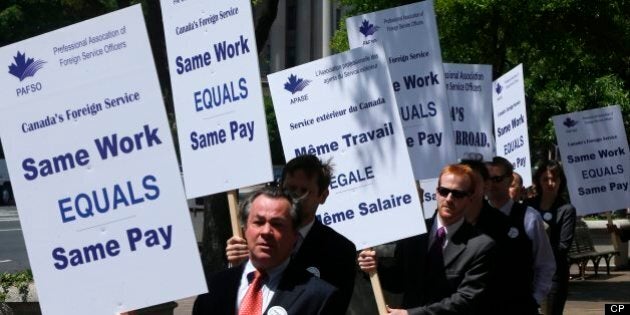 The federal government said Tuesday it is willing to settle its dispute with Canada's striking foreign-service workers through binding arbitration, accepting an offer as a union-imposed deadline passed.
Treasury Board President Tony Clement said the government accepted the offer with conditions — but said the conditions are confidential and cannot be shared publicly.
The union says its workers are paid less — sometimes by as much as $14,000— than those with similar jobs in the federal government.
"Foreign Service officers are subjected to a series of unfair and demoralizing wage gaps at all four levels of our pay scale compared to other federal professionals performing similar or identical work," the union wrote in a June press release.
"Often these employees work right next to us in neighbouring cubicles – not only in Ottawa but increasingly abroad as well."
Clement has been steadfast in his refusal to give in to the union's demands, telling the National Post he won't fold "like a $3 suitcase."
Resolving the matter would definitely be better, as tourism in Canada as well as visa applications for international students are taking a hit from the strike.
The Association of Universities and Colleges of Canada says that some students have already withdrawn from programs.
"Right now, foreign students are at a point they have to decide where they are going this fall. The concern is if they can't get the visa to Canada, they are going to choose another country," Gail Bowkett, AUCC's director of international relations, told the Star.
With files from The Canadian Press