Getty
Canadian telecoms took in more revenue per wireless subscriber than telecoms in any other compared country, according to an international study — but it might be consumers' own habits driving up the prices.
The Wireless Matrix Report, from Bank of America and Merrill Lynch, was released earlier this year, but its data on the Canadian telecom industry is particularly relevant in the midst of a campaign by Telus to keep Verizon out of Canada and an industry ad campaign trying to convince Canadians that, contrary to popular opinion, cellphone services are reasonably priced here.
According to the report, telecom firms in Canada make more revenue per subscriber than in any other developed country (the study looked at 19 developed economies). The average take per customer here is $58.22 U.S. per month, with the U.S. coming in second, at just more than $50.
Compare that to Germany, where revenue per subscriber is less than $20 per month.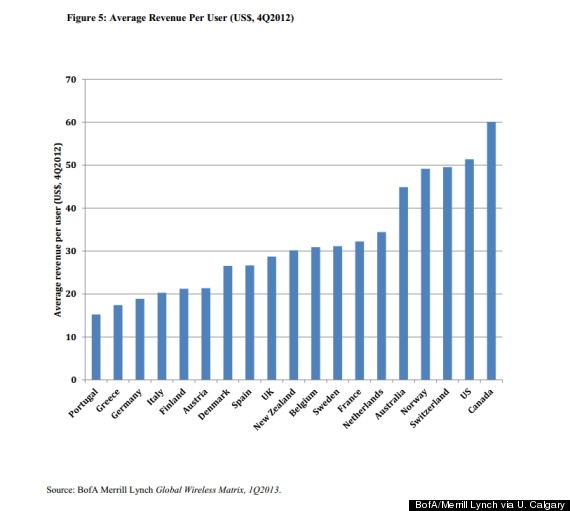 But it could be Canadians' own cellphone-use habits that are driving up those prices. According to the BofA/Merrill Lynch report, Canadians are the heaviest data users of any group surveyed, averaging more than 600 MB of data per month on their cellphones.
Only the U.S. comes close to Canada's record, at just under 600 MB per month. That's compared to about 200 MB per month in Australia and France.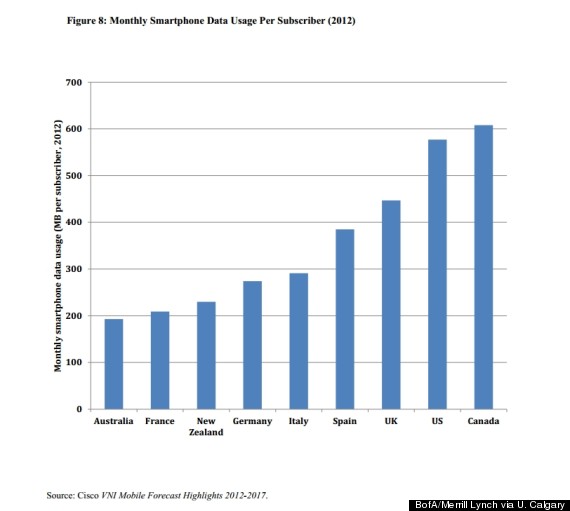 But we here at HuffPost Canada caution you to take this data with a grain of salt. Wireless prices are notoriously difficult to compare because pricing plans, bandwidth and overage fees (or lack thereof) mean there are no apples-to-apples comparisons out there.
And even with something as seemingly simple as comparing this year's prices to last year's, there seems to be no consensus.
Witness, for instance, the Wall Communications report, which the industry has been touting, showing a five- to 13-per-cent decline in wireless prices in Canada in the past year.
Then witness this J.D. Power & Associates report, from a few months earlier, showing the exact opposite — a 13-per-cent price increase over the same period.
Who's telling the truth? Your guess is as good as ours. The point is, this is notoriously difficult data to pin down.
But if the Wireless Matrix Report is any indicator at all, there may be one simple way to reduce your cellphone bill right now — stop using it so much.
Also on HuffPost
Concept Phone Designs That Make Us Wish The Future Was Now