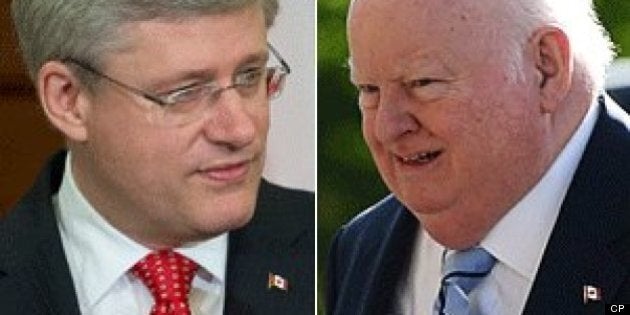 The RCMP's investigation into Senator Mike Duffy's expenses and the cheque Nigel Wright wrote to cover them has led to the Prime Minister's Office.
A senior government source confirmed Wednesday that the RCMP has contacted the PMO and said it is assisting with the investigation.
"We encouraged all current and former staff to assist RCMP," the source added.
Wright was Harper's chief of staff who resigned after the secret $90,000 payment was revealed. He's not the only one who has left the PMO in recent weeks. Chris Woodcock, one of the people who knew about the cheque according to an affiadavit filed by the RCMP, left his job as director of issues management last week. He now works for Natural Resources Minister Joe Oliver.
Benjamin Perrin, who worked as a legal adviser in the PMO and is also named in the affidavit, is also gone. He left his job a few months ago and teaches law at the University of British Columbia.
The RCMP met with Wright's lawyers on June 19 and details of their discussion are contained in court documents. They indicate that the Conservative Party of Canada was initially going to pay for living and travel expenses that Duffy had improperly claimed but then backed off when it learned the amount was going to be as high as $90,000.
Wright's lawyers told the RCMP that Wright informed Woodcock and Perrin about his intention to pay the money personally and that Conservative Senator Irving Gerstein and Wright's assistant David van Hemmen also knew.
The RCMP believes Duffy may have committed breach of trust and fraud on the government because of the living and travel expenses he claimed and for accepting the money from Wright.
Harper has always said he did not know about Wright paying for Duffy's expenses and wouldn't have approved of it if he knew.
Senators Patrick Brazeau, Mac Harb and Pamela Wallin are also under scrutiny for their expense claims. An audit of Wallin's spending is expected next month.