Vancouver's Celebration of Light is set to fire up the sky over English Bay this weekend, bringing massive crowds to wonder at fireworks from around the world.
The United Kingdom will kick off this year's series on Saturday night at 10 p.m., followed by Canada on July 31 and Thailand on August 3.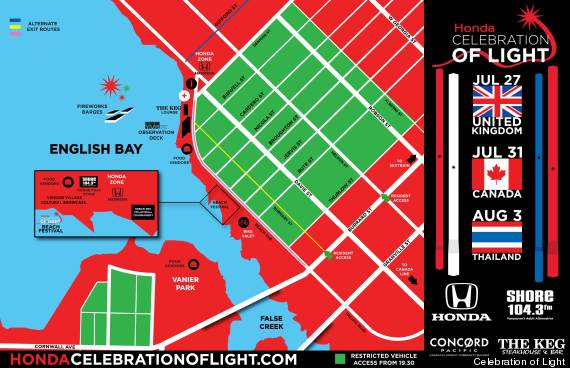 Places To Watch
English Bay is probably the best place to see the fireworks up close, but you'll need to get there early as space goes quickly. You may also have a tough time getting home as the streets are packed with thousands of people. Your best bet is to use side streets to get home, or just sit at a bar, restaurant or cafe and wait for the crowds to clear up.
The Celebration of Light also offers bleacher-style seating at English Bay's YVR Observation Deck with tickets going for anywhere between $39 and $59. The event also offers complimentary accessible seating for people with disabilities on the deck's top level.
Sunset Beach is close to English Bay, but it's not quite as busy. In addition to being a great viewing spot, it will also host the Shorefest free community concert series, with acts such as Grapes of Wrath, Deep Dark Woods and Fred Eaglesmith. Shorefest will have a separate stage at English Bay, featuring Serena Ryder and Daniel Wesley.
Kits Beach is a great place to see the fireworks across from the bay. It's a bit further from the lights themselves, but still a great vantage point to watch the sky erupt in luminous colours. There's more space than English Bay but it can get crowded too, so go early.
Vanier Park is another great place to watch the fireworks. You can lay on a blanket and see the sparks cascade over False Creek.
Meanwhile, the Burrard Bridge crosses False Creek, offering an excellent vantage point for pedestrians to see the Celebration of Light. You will not be allowed to stop your car on the bridge.
How To Get There
Public transit, pure and simple. TransLink is offering extra service on its SkyTrain, Canada Line and bus services to accommodate more people heading to Kits and the West End.
If you plan to drive, just know that West End access will be restricted as of 7:30 p.m. and Kitsilano traffic will be tough from 6 p.m. onward.
Sunset Beach offers a bike valet for cyclists starting at 6 p.m.
What To Bring
You may need a blanket or low chair to enjoy the fireworks from the beaches, unless you're content to just sit on the sand.
Bring a radio and turn the dial to Shore 104.3 FM to get the soundtrack for the night's fireworks display. You can also listen to the soundtrack on your smartphone.
What Not To Bring
Alcohol. Vancouver police will be out in force on the beaches, the streets and even on the water to watch for drunk boaters, News1130 reports.
Police will also keep an eye out for any unattended items, so viewers are advised to keep their personal belongings close.
Also on HuffPost
Celebration Of Light Vancouver 2013 Dates